Travel Charger Kit and DualJack both from iLuv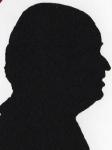 Neither of these items will break the bank and both are useful and likely to be used so are an ideal present. First a charger for use in most of the world, second something even smaller a cable with a rotating end to charge micro USB and Apple.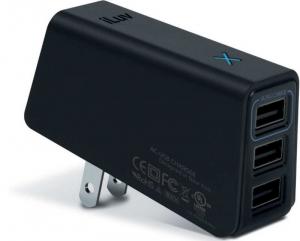 click image to enlarge
Triple USB AC Charger
In essence a Mains powered USB charger however it not only comes with 13amp plug but also those used in Europe and Australia.
It is 7x4x2.5cm before you attach whatever plug end suits your area. With the UK plug fitted it becomes 8x8x3cm.
So at this point you think why - when there are lots of 13amp ways to charge your USB device - is this iLuv offering any different.
Well it has 3 USB charging sockets in line and the top one is a fast charge so ideal when you forgot to charge and you need to leave quickly.
Detach the iLuv USB module and the plug part can be used for all those devices that come with a hard wired 2 pin plug.
The charging power is 1amp from the top socket and .5amp from the other two so fast charge should be half the time normally taken.
What's missing well it would have been nice to have mini and micro outputs so almost any device would be covered, however the second device mentioned below could possibly help out to solve some of those problems.
The iLuv Triple USB AC Charger iAD217itl is available from first link below for £9.16 with free delivery.
http://www.amazon.co.uk/gp/product/B003WE9782?ie=UTF8&tag=gadge0a-21&linkCode=as2&camp=1634
http://www.iluv.co.uk/triple-usb-international-power-adapter-pack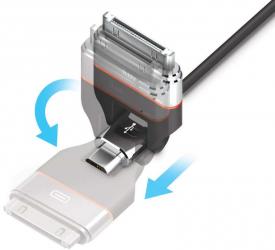 click image to enlarge
iLuv DualJack
Again a simple device but on this occasion something I have not seen elsewhere in a single lead to do two jobs.
You have a 1metre USB lead ending in a plug type to fit almost all devices made by Apple, for iPod, iPhone or iPad.
However twist the rear end of the fitting and you have an end suitable for any recent Smartphone that is using Micro USB to charge. For those who have heard of 'Red Dot' this cable has been awarded their design award for 2012.
So if you incorporate it with the Triple USB AC Charger above then the two items may save you carrying lumpy power adapters for more than one device when you are away from home. Also it helps when the original cables mysteriously disappear - which even for me does happen - so in a house with several people it probably happens all the time.
Of course the same effect can be achieved for Apple, USB, Micro USB and Mini USB with four separate cables.
The iLuv DualJack iCB17 is available from the link below for £26.39 including delivery from link one.
http://www.amazon.co.uk/gp/product/B00864573M?ie=UTF8&tag=gadge0a-21&linkCode=as2&camp=1634
However it is also available from the link below for £19.99