Morphy Richards mypot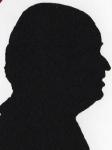 This is a multi-functional pressure cooker as not only can it work as a conventional pressure cooker but also has the ability to be a slow cooker – there's an oxymoron – cook from frozen 'to sear' and according to the book even prepare desserts.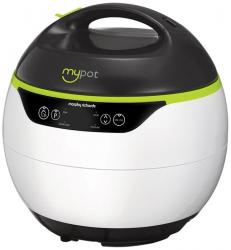 click image to enlarge
The Morphy Richards MyPot measures 30cm tall and round at 29cm across weighting 3.675 kilos it is stated to handle up to four litres at a time.
I remember my grandmother's pressure cooker it was a good way to redecorate the kitchen as more than once it had a mind of its own and dinner ended up everywhere.
My mum had one a generation later and this was more reliable providing you followed the rules and were very careful when the pressure was removed.
I have reviewed a couple of devices that are far more '20th Century' around the millennium but here a true '21st Century' offering as it is far more than a pressure cooker and the devices that my grandmother and mother used would probably be illegal today.
It is vaguely ball shaped with a ¾ ratio of cooking unit and ¼ lid. Starting with the lid this has the pressure release valve and float valve that are either side of the handle.
The front of the main body has the controls which consist of four button manual, preset, scroll and on/off, two each side of the LCD display there are also two pairs of LEDs.
In the unit are a graduated measure and cooking pot, a steam tray, rice spoon, measuring cup and trivet.
There is a 48 page A5 booklet which joy of joys is single language so the diagrams and key appear together.
While all products say RTFM - read the instructions – if you have ever had a steam burn they are not pleasant so take time to read the first 20 pages the instructions and tips.
I would also read the relevant parts before trying the various receipts as cooking times for pressure cooking are very different, they also give a list of likely times for vegetables etc.
So now to cover my first trials, first I checked the receipts to see how much favourite receipts varied according to how they were cooked. There are four receipts beef stew, pulled port, gammon ham and a sponge pudding for the slow cooked side of the unit. There are twenty four pressure cooker offerings including rice pudding from scratch. Finally eight receipts for steaming vegetables.
Of course while some will stick with what they know the ideas especially the times will be of use to those used to cooking on the hob and in the oven.
It also lists manual pressure times for a range of vegetables.
However there are ten Preset programs for things like fish, chicken, stews and soups all available from the on unit display.
I have tried several and adapted a lot of my own favourites for both slow cooking – for the times I will be out during the day – and pressure cooking for those times when I need something created more immediately.
I also enjoyed using the sear option both manually and via a Preset.
However my favourite was making soup which is great when some things are cheaper in the market or reached sell by time in the supermarket where you can make and freeze ready for near instant consumption.
The Morphy Richards MyPot is available from Amazon for £74 including free delivery.