Microwave Cookware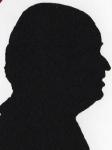 Review controls
Here I am looking at two different brands of microwave cookware and both can be purchased from Lakeland. First from their own brand a casserole dish and second an egg poacher –OVO- from the Lekue range of microwave cookware.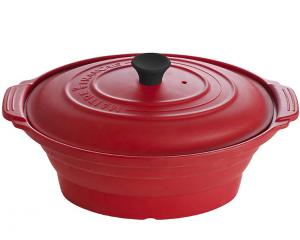 click image to enlarge
Lakeland Oval Silicone Microwave Casserole
I saw this at the Lakeland Xmas In July presentation that took place at Somerset House in London. It was a busy day and I had already seen a similar silicone product from Lekue at a different event which I shall tell you about below.
This is a silicone oval casserole that works in a microwave, it is 27cm from end to end, 18cm from side to side and 5cm from ridged base to the top of the handle, it weights 405grams.
Remove the lid that has one air vent hole and you have an oval central section with an oval outer section around it.
This is done to make sure all the food gets well heated and no cold spots which if you are cooking from raw could be dangerous.
This is totally different to the cast iron or pottery casseroles that are designed for long and slow cooking.
The demonstrations I saw at the events were with lots of raw vegetables sliced thinly and then a spoonful of a bottled sauce normally chilli based added before a short time in the microwave. While I am sure the modern family with palettes that can take 'heat' would love this and of course it's 'healthy' my palette is more 'meat and two veg' so I tested it in other ways and I found that something cooked in the oven one day could be thoroughly heated through in a short time for next day use in this casserole, whereas if it were placed in the microwave on a plate you get cold spots or dry the contents out by overheating.
The casserole is easy to clean and the only thing to avoid is direct heat from say a conventional grill.
The Lakeland Oval Silicone Microwave Casserole is available from their shops or online from the link below for £10.99.
http://www.lakeland.co.uk/71766/Lakeland-Oval-Silicone-Microwave-Casserole
Lekue OVO Egg Poacher
On the face of it a tool that has a single purpose – and one it does very well – but other things can be added to make a whole meal in the single container.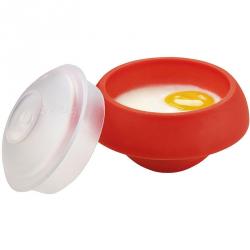 click image to enlarge
Like the item above it is made of Silicone this is shaped like a mushroom with the base being far smaller than the top again designed to make sure everything gets heated thoroughly.
It is circular at 6cm at the base and 10.5cm round near the top just below the lid that is 8cm across, like the item above it has one vent hole.
While the body is orange the top is a semi clear white colour, it weighs 60 grams.
The demonstrator claimed that a perfect poached egg could be made in 35 seconds and he was correct, this was with a modern microwave on full power.
My microwave is old and does not even have a revolving turntable and works on 650watts not 800watts.
So I smeared a tiny amount of vegetable oil around the inside of the casing and then broke the egg into it, I cooked it for 30 seconds and then turned the unit through 90 degrees and then cooked it for another 30 seconds.
The poached egg turned out perfectly with the white solid and the yoke runny in fact a perfect poached egg.
There is a multi-language instruction fold out sheet that also talks about using the unit in a Bain Marie but that would vastly increase the cooking time and surely the whole point is to provide a healthy breakfast in the time it takes to make a piece of toast to put your poached egg on.
The Lekue OVO Egg Poacher is available from the link below for £5.89.
http://www.lakeland.co.uk/71130/L%C3%A9ku%C3%A9-Microwave-Cookware---Red-Poached-Egg-%26-Omelette-Cooker