HP OfficeJet Pro 7740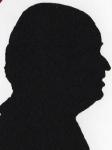 Having recently told you about an A3 printer that was little bigger than an A4 unit here this is not only larger and faster it has two built in paper trays and can easily serve a whole office via Wi-Fi and Ethernet and even print remotely.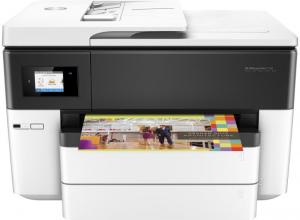 click image to enlarge
The HP OfficeJet Pro 7740 is an All In One that means not only, Print, Scan, Copy but also for those who need it Fax.
It is 58x48x38cm and if you use the flatbed a little more space is needed on top of the last figure but unless you use it under the eaves this will not be a problem as few shelves will be able to cope with its 19.5 kilo weight.
It has four inks the three colours are as supplied stated to last 640 pages and the black to last 1000 pages. However there are also 'XL' cartridges that are double the volume.
Unpacking and doing the setup including installing the cartridges took around 25 minutes, the basic software around another 10 minutes it took 210MB of hard disc space.
Print speeds used to be shall we say 'unobtainable' but now all manufacturers must use the same sheets for testing and so there claims should be reachable.
The stated colour figure is up to 18PPM (34PPM in draft) and black is 22PPM (34PPM in draft). Perhaps of more interest to most is time to first page out and this is stated at 10seconds. The recommended page volume per month is between 250 and 1500 pages quite a large spread.
This is a four ink offering and although you have to delve quite a way inside the unit to fit them there is even an internal light that comes on when the unit is open to facilitate the fitting or removal of cartridges.
It comes with 512MB of memory to process work quickly.
Two decent sized paper trays both easily able to contain the stated 250 sheets, during the initial install it asks for paper to be inserted in tray 1 which turns out to be the top one, I found out by inserting in tray 2 (bottom one) and it still asking for tray one, you also need to insert paper – even A4 – in portrait format even though it can accept it in landscape as it is capable of A3 printing. This is A3 maximum so no A3+ support.
For those who need or want Duplex this unit carries it out.
I was less happy about the claim for up to 75 sheets in the output tray, while it has sides and a good slope when fully extended I would become nervous long before this figure was reached.
As to papers accepted the range goes from 60-180g.
For scanning there is a page feed and a flatbed, they can to PC, external device or email in TIFF, JPG or PDF.
Copying can be between 25% and 400% at 600dpi with speeds over 30ppm.
Fax can be in colour if required and it has a page transfer time of just 4seconds and a memory capable of holding 100 pages.
If size is not a problem then this unit worked well I had no paper jams even though I always mix weights and types of paper as part of my tests. One of the main selling points is that the cost of inks makes this 50% cheaper to run than a laser which you will need to check out.
The HP OfficeJet Pro 7740 is available directly from HP for £49.99. It's alternatively available from Amazon for £149.99, including free delivery.