Expression Home XP-442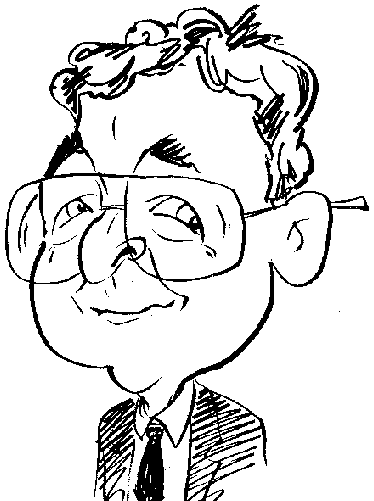 Review controls
Adding to its range of ink cartridge devices, Epson has released its XP-442 model.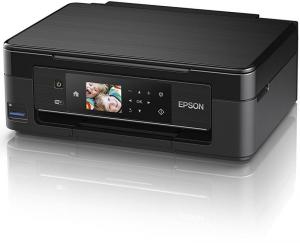 click image to enlarge
The Epson Expression Home XP-442 is a member of the company's range of All-in-One devices. This particular product gives the user a choice of print, copy and scan features either via a USB or WiFi connection with the additional option of sourcing documents and images from SD media.
Decked out in a combination of matte and lacquered black, this rectangular box with rounded corners has dimensions of 390 x 300 x 146mm (W x D x H) and is made up of an A4 flatbed scanner mounted on top of an inkjet printer. This is a four cartridge printer covering the usual complement of black, yellow, cyan and magenta colours. These cartridges fit into a holder residing in the belly of the printer. Paper passes through the printer from a slot, with a capacity of 80 A4 sheets, at the rear of the unit and is ejected from an opening at the front. An extendable arm helps ensure printed documents are not scattered over the floor.
Situated on the front of the printer unit is a control panel which can be adjusted to various angles to suit the needs of the user. Featured on this control panel is a colour LCD 55 x 40mm screen. This screen will provide feedback regarding menus and messages. From this screen you can scroll through options that include functions entitled Copy, Print Photos, Scan, Setup, WiFi Setup, Quiet mode and Help. There is also an option that features copying photos, printing original ruled paper and calendars based on your photos. To the left of the LCD screen are the power on/off and Home screen buttons. On the right of the screen is an arrangement of buttons to increase/decrease the number of copies, navigate through various options plus go back, stop and start operations.
Setting up the XP-442 has been organised in such a way that it is fairly foolproof although I still managed to come across one problem. A software CD is provided as part of the package and this media includes an illustrated walkthrough of the different stages of the setup procedure. You are led through stages that include inserting the four ink cartridges and the integration of the unit into a computer system either via USB or WiFi. You will need to provide the USB lead if you opt for this physical connection method.
Each step of the various processes will be shown on the computer screen along with accompanying instructions and this information will be duplicated on the control panel screen. Everything seemed to be going smoothly as I opted for a WiFi connection using WPS. However, while the XP-442 was able to print out a report regarding the successful establishment of a network connection, the setup software claimed that it was unable to discover the Epson device in order to complete the process and install various software utilities.
Despite re-running the process of a further two occasions, the impasse remained and my network refused to recognise the XP-442. It was not until I switched to a USB connection that the set up process could be completed and the utilities were set up for scanning, manuals, portal and photo printing, amongst others, were set up. Later I was able to create a WiFi link when using a different computer, on the same LAN, as the host device.
The Epson print driver offers users a choice of three main print qualities that are entitled Draft, Standard and High. While Draft mode is only really suitable for checking out layouts and basic editing functions, Standard mode would be fine for general tasks. High quality mode can be kept for those documents that are regarding as being very important. Running my usual print tests, with 101-word documents in monochrome and colour with an additional image, at the different print qualities produced the print speeds as shown in the following table. These speeds were produced using the USB connection.
Epson Expression Home XP-442

| | Monochrome | Colour |
| --- | --- | --- |
| Draft | 40ppm | 34ppm |
| Standard | 24ppm | 18.5ppm |
| High | 6.5ppm | 5.25ppm |
When printing long documents, the Epson print driver offers a semi-automatic Duplex option. In this mode the printing will produce the odd pages and then pause. This break in the action will allow the user to replace the printed output so that the even pages can be produced. Using Standard print quality, a 12-pqge 6700-word document was printed on 6 pages in 107 seconds.
As well as documents, the XPO-442 can also print photos that are either stored on an SD card or a computer. With High quality selected, a 10 x 15cm image was printed in 2 minutes 7 seconds. A full A4 image required 5 minutes 52 seconds to be completed. Image quality was more than adequate. By combining the scan and print features to produce photocopies, an A4 monochrome copy took 16 seconds while the same image in colour required 46 seconds.
Apart from the problem I had with a WiFi link with one computer, the Epson Expression Home XP-442 performed well with all its tasks. Epson has priced this printer at £79.99. Replacement ink cartridges are listed by Amazon.co.uk at £14.99 for black rated at 470 pages and £16.99 for each of the colours which are rated at producing 450 pages.
http://www.epson.co.uk/products/printers/inkjet-printers/consumer/expression-home-xp-442