Bluebeard Cutthroat Razor Kit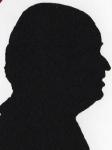 A cutthroat shave from a barber is a treat that will probably take a long time especially with a hot towel treatment. Now this kit gives you chance to do it for yourself at home - certainly not something to try after a night out.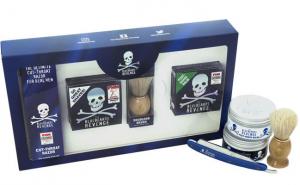 click image to enlarge
The kit comprises the razor, a quality brush, shaving cream and an after shave balm. The one thing missing is the blade as the razor uses near conventional blades so no strop is provided.
Most people today use either an electric razor or a safety razor of some sort. The kind of razors with multiple blades are virtually fool proof so reverting to an open single blade is a path to be trodden with great care.
The razor is 15cm long when closed and 22cm long when open, it uses disposable double edge blades which I was surprised were not included in the kit. Bluebeard can supply them as I assume can your local chemist/barber as I am sure there are still people using this sort of blade.
Shaving with such a blade is something to be tried with care and perhaps even more dangerous than with a conventional cut throat razor with a solid blade that needs to be kept sharpened with a leather strop. The reason is that the blade on the supplied device needs to be inserted and removed with great care and this is the point where you are most likely to cut yourself.
The Shaving Cream comes in a screw lid pot this is stated to be enough for '50 Great Shaves', with modern foams and gels the art of getting a good foam is lost but can be recreated using the fine bristle brush provided this comes with a solid polished wood handle, this certainly beats rubbing gel into your beard with your fingers. The last part of the kit is 'Post-Shave Balm' something that I had never tried yes all sorts of after shave lotions but not something that comes in a screw lid pot like the Bluebeards Revenge Balm.
While I am not a member of the health and safety regulation bonanza that abounds today the fact that there are no instructions to show how to fit, remove and use the open blades is something that could well be a subject of a health and safety sheet, no such sheet is included and to me anyway this is a big mistake. Yes the Shaving Cream states it is for external use and the Balm has a warning to keep clear of the eyes but no advice about the fitting or removal of the blades where you are handling the blades far more than when you run it down your face and neck.
Perhaps they have a get out by not supplying blades with the Razor set but as they then sent me a pack of blades also with no instructions on fitting or removal. Before you ask I did not cut myself, but as I had many years ago used my grandfather's cut throat razor and I am over 70 and not 17 maybe that has some bearing on the great care I used.
Looking at their site found this one piece of advice 'Simply snap a double-edge blade in half (lengthways) and insert'
Full details of all the Bluebeards Revenge products can be found on the link below, the kit as supplied to me is shown at £34.99.
https://www.bluebeards-revenge.co.uk/product/the-bluebeards-revenge-cut-throat-razor-kit/