Orbitsound T4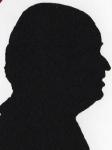 Unlike the T3 and T12 (reviewed in 2008) this is far more than a speaker unit. It does have a speaker as an output but this is an Internet, DAB, FM radio, iPod dock as well as being able to be used as an Auxiliary unit to project sound.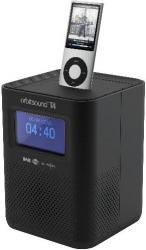 click image to enlarge
The Orbitsound T4 is also a lot smaller than any such units I have reviewed previously at only 10.5x10.5x14cm, the unit is matt black.
The front has a 6x3.5window that shows up to six lines of information, white on grey and it's very readable even from a distance. Below this is the single speaker but as you would expect from Orbitsound its good quality. The top has the iPod dock and there are fifteen buttons, five along each side and the other five along the front.
The sides and base have no connections or buttons, the back has three slightly recessed connections for the DC input, Auxiliary input and the third is for either stereo output or headphones/earbuds, below these is a wire aerial for both FM and DAB.
Internet setup is a little clunky unless you have unprotected Wireless Internet or one of the range or routers that connect by pressing a button on the unit. For most of us you need to enter your wireless cide (luckily only once) by a slow sequential choice that goes through lower case upper case and numerals ending by enter also in this long string. However even if power is removed for an extended period it still remembers your passcode and loading from off to listening to the last station you loaded should be less than 30seconds. A lot faster than earlier implementations of Internet radio as the buffering is almost instant as opposed to nearly ten seconds.
Changing stations from the up/down on screen list should be around ten seconds providing it is currently broadcasting. There are ten presets available for Internet so any station you listen to regularly should be quick to load. There are also ten DAB presets and also the same number for FM. So a total of thirty presets are available.
I am not normally a fan of wire aerials but I found I got good reception on both DAB and FM anywhere I used the unit. The wireless Internet reception was fine in all but one room (the furthest from the router) but apart from that it was fine. For those without wireless it would have been nice to have the Ethernet option available.
Changing from one to another service was a sequential toggle and whichever you switched off with was the one (including station) you started with next time. The order Internet, Music Player, DAB, FM, iPod, Auxiliary In and then back to Internet. The exception is iPod where as soon as you plug one in it offers you the chance to swap to it.
There is a 44page manual that delightfully is all in English and covers everything fully, it is also possible to use the unit as a media sharer with anything stored on your Network.
Other things you have include two different alarms with the wake up function chooseable from any of the options. There is also a variable sleep timer.
A small neat unit that will be able to replace a clock radio, iPod charger and player and providing your wireless Internet is good a Media Server and of course any of the thousands of Internet radio stations throughout the world, all these functions as well as MP3 or any other 3.5mm input all available from your bedside.
A brilliant bedside companion and all in a small case, joy of joys supplied without a remote control.
The Orbitsound T4 is available from the link below for £99.99 from the links below.
http://www.amazon.co.uk/gp/product/B003TBO1S4?ie=UTF8&tag=gadge0a-21&linkCode=as2&camp=1634