Nio Bluetooth Security Tag

Published Dec 1, 2009 Author
petew
Review controls
With the proliferation of small valuable gadgets you don't have to be of a nervous disposition to worry that they may be liberated from you!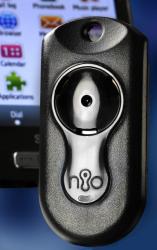 click image to enlarge
The Nio is a Bluetooth solution to put your mind at ease - being presented as you Gadget Guardian!
With miniaturisation comes huge benefits of course. Not so long ago your mobile phone was the size of a brick, your 'laptop' required reinforced thighs and your reel-to-reel tape deck wasn't going anywhere. You didn't have to worry too much about someone wandering off with your valuables while you were out and about simply because those valuables weren't with you.
Technology moves on. Those older technologies now much smaller and likely to be on your person. They've also been joined by other newer ideas. Expensive digital cameras, video cameras that fit in the palm of your hand, mobile 'phones' with more power than recent desktops - the list goes on.
It's not only the gadgets themselves - the value of the content can easily surpass that of the hardware orders of magnitude. Hardly a month goes by without a story in the press of the £4 memory stick left on a train or in a coffee house containing the personal details of thousands of individuals - valuable stuff!
One solution is physical security - put all your valuables in a lockable bag and then handcuff that to your wrist! The solution offered in the Nio is not actually a hundred miles removed from this physical solution - but you'll be pleased to hear that it does away with the handcuffs! Instead the physical chain is replaced with an invisible wireless chain.
Nio makes use of Bluetooth in your mobile phone. Visually and in terms of size the hardware resembles a Bluetooth headset but without the earpiece. At one end there is an eyelet by which you can attach the device to your keys. The only control is a pin-hole reset button which you'll need to pair the device with your phone.
Before use the Nio needs to be charged via a standard micro-USB connector. You can change either from the provided main adaptor or any suitable USB source. A full charge will take around 40 minutes and that will then give you around 30 hours of use. Nio suggest that this would last two weeks assuming you use the tag two hours a day, for example while out and about).
To use Nio you download a Java applet to your mobile phone - this can be done directly from your phone assuming you can get mobile Internet working. If not then download from your computer and thence onto your phone. The software is compatible with a wide range of phones - you can see a list on their download page. Note that the list is not complete - I'm quite happily using a Sony Ericsson W995 for this review which is not on the list.
Once installed you pair with your phone and follow the simple instructions. You do have to remember to run the Nio application on your phone in order to connect the two devices. Once working though the application can be run in the background. In my testing I was quite capable of making a phone call while Nio was busy protecting my devices.
Range sensitivity can be adjusted depending on where you are from high to low. In most practical situations it would seem that simply leaving it in 'high' mode would be most sensible.
One last very useful feature of course (in my case at least) - if you keep the application running all the time with the tag on your keys a handly 'locate' feature can save significant time when you've lost your keys!
The Nio tag is currently available for £39.99 from Amazon, including delivery, on the following link:
http://www.amazon.co.uk/gp/product/B002ON87NS?ie=UTF8&tag=gadge0a-21&linkCode=as2&camp=1634
There's also a 10% discount code valid until the 17th December 2009 - just enter XKPN9EOV at the Amazon checkout.