ZyXEL Cable Router with wireless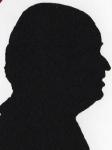 Not only can this connect all those on a single connection from NTL/Telewest/Virgin but also allow wireless connection and it even has a wireless/USB stick for those PC's or notebook without wireless built in.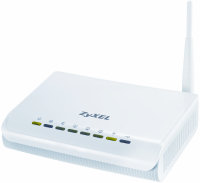 Until recently my connection was ADSL and then I decided that the NTL/Virgin offer was worth the swap. You get a small box with a coaxial connection in and then a single Ethernet connector to go to a PC so the change to look at the ZyXEL Cable Modem was ideal.
You may already have read the article on ZyXEL Powerline Ethernet and this was used to help with that. However at that stage the Wireless aerial and USB stick that come with this Router had yet to leave the box. Then the Nabaztag rabbit came in so Wireless was required and this provided it.
Next to connect a PC that had no Ethernet and that was connected without problem. So now all parts of the ZyXEL offering have been tested and found to perform correctly. I am not sure why NTL/Virgin provide only a basic modem maybe it saves them support calls as if they get the connection arriving on a single PC their job is done.
For those on ADSL a cable modem works slightly differently in that it sends it's MAC code to whatever it is connected to as it has no way of being interrogated backwardly as ADSL offerings do. It retains the link for around 15-30 minutes to allow for reboots etc. After that time (with the modem off) you can then connect to another PC/Notebook but of course a cable router such as the ZyXEL offering here means the signal goes into the router and how or where you distribute it after that is up to you so any PC/Notebook can be hot plugged/unplugged from the four ports at anytime.
It is 16x11.5x3cm if the wireless aerial is plugged in and vertical it adds 8cm to the final figure. For basic use of the router it's just plug it in and go. To setup the Wireless needs you to either use the supplied CD-ROM or use the Web interface as advised in the documentation. The same is required to use the Wireless USB Adapter.
Most modern PC's have an Ethernet port but there are still a few in circulation (I have one for instance) that do not, almost all notebooks have Ethernet but again there are older ones without (sorry don't have one of those) and surprisingly some modern notebooks do not have wireless. So the USB adapter is something that is always useful.
Should you normally connect via Ethernet but need to say connect a notebook down the garden it could be ideal. The Powerline could be the solution to avoid a long Ethernet cable and could even work where wireless does not so check out the PowerLine review (17-12-07).
I have reviewed lots of ADSL routers and modem routers but being new to Cable this is my first Cable router and it seems less fuss than ADSL but then later ADSL offerings were a lot easier than earlier ones.
If you are going to use Wireless then set up protection either WEP or WPA in fact the box has eight different types listed. Your neighbour nicking your broadband is one thing but a thief nicking your identity is totally another so be secure.
So from the router you get four Ethernet connections + wireless plus the Wireless USB adapter. Powerline if you want or need it is extra.
Doing my Internet searches found the ZyXEL Wireless Cable Router NBG334W at a best price of £47.82 from the first link below.
http://www.amazon.co.uk/gp/product/B00155RIZE?ie=UTF8&tag=gadge0a-21&linkCode=as2&camp=1634