Nabaztag Wi Fi Rabbit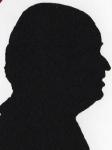 This is something that I first saw just over a year ago, a version was available but a new version was only a couple of weeks away. I gave up after six months of requests and then a few weeks ago I am told it's available.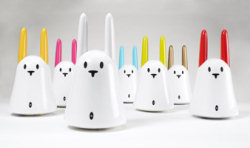 First this is an almost white rabbit that seems to have only ears, face and part of it's upper body. It is a maximum of 24cm tall to the tips of it's upraised ears and a maximum of 40cm round. Looking at my notes of a year ago I see that it has 17 different colours of lights not only displayable in it's belly but also it's face and ears.
So what does it do, well that is very much up to you, it can get information from the internet and read it to you, this could be the news, weather, stock prices travel information or it could even be used as an alarm clock. You can speak to it to ask for information like the weather.
It comes with two sides of instructions and indeed that should be enough to get you going. Not however in my case. You are told how to turn it on and you then get three blue lights in it's stomach and indeed this I always got. You then go to a configuration page and answer a few questions like choosing your wireless network and choosing your security. At this point the rabbits blue lights turn yellow and then you wait for them one by one to turn green. This is as far as I got in the first dozen or so attempts over a week or so.
I tried setting up different networks and even tried no security (not a good idea) and finally I managed to get to the green lights. At this point all the lights go out it's ears twirl and all you have is a purple glow in the rabbits belly. Interestingly enough I was able to connect to another wireless network (that I originally could not) once the first completed connection was made. This was probably because in both cases it was the same router and therefore the same SSID.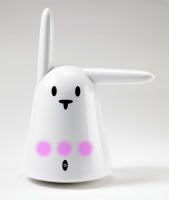 Back to the instruction sheet and you now need to connect again to the Internet this time to register and name your rabbit, this includes entering it's serial number found on the base of the rabbit, again this could be problems as B and 8 look almost identical as of course do 0 and O and the whole number is tiny anyway. This is quite a long form split over several pages and at points it shoots you back for example my rabbits name was not unique and it just highlighted the box in red, nothing helpful like telling you it must be a unique name or even offering alternatives that may be available.
Certain things like downloading music can be done later by returning to it's burrow, but if like me you have struggled for a week you just want it to do something.
For anyone still reading Nabaztag is rabbit in Armenian. I have no doubt that this will find a place on an executives desk or three that's if they get past the installation and registration, maybe in a larger organisation this will fall to the poor IT guy. When it asks if you are a boy or girl I certainly do not envisage it as a child's toy.
With work I can this being of use where alerts are required but at the moment I only call it an executive toy.
Doing my Internet searches found the Nabaztag Tag at a best price of £89.95 from the first link below.
http://www.firebox.com/index.html?dir=firebox&action=product&pid=1327