Pure Siesta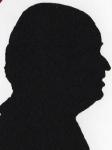 Review controls
One of the better names for a DAB radio as especially if you are listening to cool music you would often come near to laying back for exactly it's name.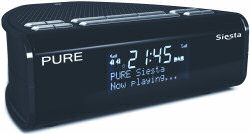 It is black in colour, 17x14x5cm although those the maximum dimensions with only the centre rear being 14cm as it curves quite sharply each side.
There are twelve silvered buttons on the top with the speaker mounted behind them. Should you prefer to listen via earbuds there is a 3.5mm socket on the top. The front has a 6x2.5cm three line display. The top line being twice the size of the other two.
The base is where the power adapter plugs in and the wire aerial also emerges from there. Both leads feed out beside the single rear rubber foot (there are two at the front). The two metre power lead ends in small power brick/plug. The 70cm wire aerial needs more careful placement and if you do not have something to attach it to within that length add say a long elastic band that can let you get to say a window frame and it has the benefit of keeping the wire under tension.
This is the first DAB radio I have used that has an energy saving mode, stated to be less than one watt in standby. When in standby it does not collect Intellitext messages, or to put it another way it just keeps the clock going so using less power. During your first switch on and tune you select if you want it to use energy saving mode.
With the aerial extended switch on and providing you are in DAB mode it will autotune this takes around a minute. My tune found 49 stations (some like five live sports extra only broadcast occasionally) however if DAB is new to you then you should check what your likely reception will be. Look at the second link below and enter your postcode to get some idea of likely reception in your area.
This is a mains only unit and is ideal as a bedside clock radio. You can set up to three different alarms. Ideal for people who get up at different times on different days. You can wake up to DAB/FM or a tone sound, for those heavy sleepers you can even set a high volume level. Of course any good alarm has a snooze button and the default here is nine minutes but you can set it for any length between 5 and 60 minutes. There is also a sleep timer with between 15 and 90 minutes being selectable.
DRC (Dynamic Range Control) is becoming more available, it has three settings here on, half or off. It tends to make lower volume sounds more listenable or course the only way you know it works if you listen to a play or song twice, the first without it and the second with it.
Presets (how did we ever manage without them?) there are eight for DAB less important and eight for FM very important as scrolling from one end of the band to another takes a lot longer as it moves in .05 increments.
The FM band features RDF (used to only be available on high end car units) so you get more as standard.
If black is not your favourite colour it is also available in silver or charcoal, once you have used it at night you will enjoy the auto dimming display.
I liked the sound quality which on a radio must be the most important criteria and have spent many 'Siesta' hours listening to my favourite cool jazz while contemplating not a lot.
Doing my Internet searches found the Pure Siesta at a best price of £44.99 including free delivery from the first link below.
http://www.amazon.co.uk/gp/product/B000SO0846
http://www.pure-digital.co.uk/Products/Product.asp?Product=VL-60907