Proporta's Phone Back-Up Power

There cannot be many users of power-hungry portable devices such as iPads and smartphones, who have not seen a warning message that their battery is getting very low or have even had it stop working when the battery dies on them. The Proporta TurboCharger 7000, which is not much larger than a smartphone, can make this a thing of the past.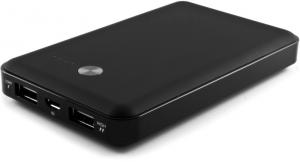 click image to enlarge
The TurboCharger 7000 is an external rechargeable Lithium-ion battery that, when fully charged, has a capacity of 7,000mAh. This is well over four times the capacity of many smart phones. Just connect it to your phone and, as well as recharging, it provides instant power so you are back on-air without delay.
It is roughly 120 x 70 x 15mm and sits comfortably in one's hand and weighs just 240g when stowed in its draw-string bag with its accessory connectors. It has an attractive black finish -- matt on the top and bottom surfaces and shiny around the edges. On the top is the power push-button and four tiny LEDs which indicate charge state and there are three USB connectors on one end of the unit: the central micro input port and the outer two output ports.
Hence, two devices can be charged at the same time. Two retractable USB cables and a number of connector heads to suit many leading mobile devices such as the iPod, iPad and iPhone ranges, Blackberry, HTC, Sony Ericsson, Nokia, digital cameras and many other gadgets are supplied. While the port marked 'High' is for higher powered devices such as iPads it is also suitable for all other devices.
When supplied it pre-charged to about three-quarters full. Hence, it can be used straight out of the box. Then, subsequently, it is charged from the mains using a USB AC adapter. While an adapter is not supplied with the TurboCharger, one can generally use the one that came with one of your existing USB-powered devices. When fully charged, all four blue LEDs are illuminated (a lesser number of LEDs indicates a lesser amount of charge remaining). However, the maker's claim that it automatically turns off when it is fully charged.
At any time one can check the amount of charge in the TurboCharger by just pressing the power button. If no device is being charged at the time, the TurboCharger will then automatically turn itself off after a few seconds.
Whether it is for business or pleasure, so many of us have become totally reliant on our phone as well as, often, many other devices. The TurboCharger provides a means of ensuring that we don't run out of power and become unable to communicate. While many people will deny that this is a problem, the realists will recognise the situation and could well consider that at, £54.95, from www.proporta.com, is a worthwhile buy.