HTC Meets Most Desires

The Desire S is a recent addition to the range of Android phones from HTC and, as a result, has benefitted from the company's experience. It is of a nice size and feels right in the hand and, having a fast enough processor and 1G of memory will meet the needs of the great majority of smart phone users. With built-in GPS, FM radio and torch it is also aimed at being the Swiss Army knife of smart phones.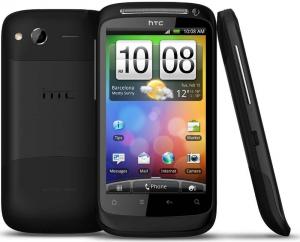 click image to enlarge
As one would expect of a smartphone, with full connectivity, including WiFi and Bluetooth, and running Android 2.3 it is extremely versatile. The wide range of features and apps already incorporated are conveniently accessed via the seven home pages so that one can go from, for example, listening to an MP3, to checking appointments in Google calendar and then sending an email -- and there is also a vast range of other Android apps available.
The Desire S is 115 x 60 x 12mm in size and, weighing just 130g, so will fit comfortably into the pocket or handbag. Made from a solid block of metal with a grey finish it is robust and the textured plastic areas on the rear surface make it easy to hold. The provided headset connects via a standard 3.5mm jack while the vibration feedback when tapping the Home, Menu, Back or Search buttons is very effective. Moving and zooming around the screen is smooth using the familiar finger movements.
The 1GHz processor speed, when coupled with the 1.1GB internal phone storage and 768MB of RAM is adequate for most users especially as up to 32GB storage can be added on a microSD card.
The 480 x 800 resolution 3.7inch touch screen which is perfectly suitable for the smallest print or for images especially as, where necessary, one can move around, zoom and automatically change between portrait and landscape orientation.
Photos or video images are stored on the microSD card. The 5Mpixel autofocus main camera offers a full range of features including zoom, a choice of resolutions, flash and self-timer and was quite convenient to use even though the colour rendition sometimes did not appear over accurate. One can also take a photo or a video of oneself using the front camera even though features such as zoom and flash are not available.
As well as the Desire S incorporating GPS, 'Locations' also enables one to download maps to the phone and then using one's data connection or Wi-Fi to find where you are. Although this is not as accurate, it obviates the battery drain of the GPS receiver.
In addition the phone incorporates a wide range of useful features such as Internet access, Google Calendar and Gmail and, running Android 2.,3 there are a vast array of Apps to extend it utility still further. Practical considerations have been taken into account by HTC when designing this phone. For example, with 'pocket' mode there is a gradual increase in ringer volume and it vibrates when a call is received so minimising the risk of missing a call.
At about £430 SIM-free or from £20 and upwards per month this is not cheap. It is, however, good value for money for a serious and most effective smartphone.