Canon Pixma MP610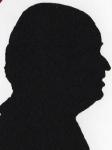 This is a rather squashed looking grey unit, but it does have some surprises, it is an All In One unit, it can print direct onto CD's and DVD's and while on printing, in custom mode you get close to 30PPM.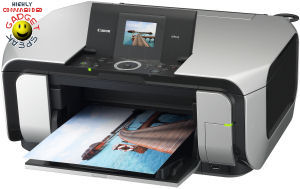 The Canon MP610 is 44x40x18cm the last figure the height increases by around 20cm when paper is waiting to be printed in the vertical rear tray.
Although it has the squashed look it is remarkably clean as all the controls are under a lid that also has the 5x4cm TFT display inset into the rear of the cover. There are ten buttons and the ubiquitous five position joystick that gives a good a amount of control even when copying without the PC being connected. The only question some may ask is would it pass the lounge police, probably not.
I do not tend to look at the claimed print speeds until well into writing the review as normally I cannot get near them with an inkjet, here I was tempted as the figures I achieved were excellent. When I did look my first thought was - at last a printer manufacturers quotes speeds that are obtainable.
Almost as soon as I installed the AIO I needed to print a 17 page document for some reference for another review. I was amazed it printed in less than a minute (no timing as I was not testing it) so I knew this was something different.
Anyhow I have jumped ahead, the install from CD1 took less than ten minutes and took 460MB of hard disc space. You need to finish this install by exiting before inserting CD2 that has Omni Page SE4 on and then letting this install start separately. If you just insert CD2 when told you will get an error. In total around 530MB of hard disc was used for the full install.
Printing the nonsensical 200 word document in custom mode (set for speed) produced a mid grey output at close to 30PPM, quite readable and okay for checking. The more normal 1500 word document (spread over four pages) came in at 22PPM.
Printing with black output was only slightly slower at around 20PPM a perfectly acceptable speed for me especially if 30PPM is achievable from the stated 31PPM.
I was also well satisfied with the copying speeds, copying direct from the unit with the PC either not turned on or connected produced a good black A4 copy in 15seconds and the same in colour at 20seconds. This is excellent for single copies.
Scanning is probably easiest done from the Solutions Menu (this will open automatically when you boot up by default) and then the actual copy from the platen will take place around 10seconds per A4 page, this however only gives an image to get it to OCR is another step, some other packages offer this as an option at the time of scan. The default action is to scan a colour document and you need to stop the process and restart should you want another of the options, for example a black & white document.
It is possible to print direct onto the surface of a CD/DVD but only do this on specially coated media or you will end up with a mess that will never dry.
Finally returning to printing it prints a borderless A4 image on photo paper using the settings chosen by the Solutions Menu in an amazing 63seconds from saying print to the A4 page being delivered, quality is fine now that is real speed, but as always it's quality that matters as far as I am concerned, Canon's photo printing has always been faster than most but this is exceptional.
Doing my Internet searches found the Canon Pixma MP610 at a best price of £105 including free delivery from the first link below.
http://www.amazon.co.uk/Canon-MP610-colour-screen-Scroll/dp/B000UX3U6I
http://www.canon.co.uk/For_Home/Product_Finder/Multifunctionals/Inkjet/PIXMA_MP610/index.asp?specs=1