DVD quality movies on your mobile phone - Mobiclip from Actimagine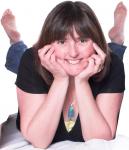 Usually at Gadgetspeak we review products. Recently we were given the chance to review a video encoding technology called Mobiclip. A technology that will enable mobile phones to store movie length films at high quality and without impinging on battery life. We were sent a Nokia N73 with a film on memory card using the Mobiclip technology by Actimagine.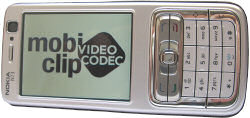 You can't actually go out and buy 'Mobiclip'. It's one of those things to be aware of and look out for when buying a mobile phone. You'll find some Nokia, Sony Ericsson and Motorola phones that come with Mobiclip technology and, if you want to be able to watch full length movies on your phone, this may end up being one of the reasons why you choose one phone over another.
Manufacturers of SIM cards and memory cards, and content providers buy into the technology and then sell you the end result. Video content can be pre-recorded onto a memory card or SIM card, or can be downloaded from a telecoms network. Use of the technology is very much in its infancy. At present there are about 25 full length movies available with Mobiclip. Examples of the technology in action include Nokia providing customers Spider-Man 2 for the Nokia N73 mobile phone, and The Da Vinci Code for the Nokia N80. Sony Ericsson partnered used Mobiclip on a memory stick containing the film Final Fantasy VII Advent Children as a special offer to customers buying the M600i. Carphone Warehouse use the Mobiclip technology to deliver movies on smart phones.
Mobiclip is a software video codec especially designed for use with mobiles. 'Codec' for technophobes means the software that takes the file from the memory and translates it into what you see on your mobile. Video capable mobiles already have their own built in video player - so what makes Mobiclip different? In layman's language it means high DVD quality on your mobile without being too battery hungry. Actimagine tell us that you can have 8 hours of battery life and continue to make and receive calls whilst using other functions on the mobile phone. We don't have any comparative information for competing technologies, but are led to believe that the differences in battery consumption are considerable.
We asked Actimagine how their technology compares to others and where told "In terms of encoding Mobiclip is equivalent to H264, the best standard technology on the market, but where Mobiclip is very different and brings more value is in decoding. In decoding Mobiclip requires between four and five less processing power than H264. This means that Mobiclip can run on low processing powered mobile phones whereas competitors can't, and Mobiclip brings more resolution and quality than competitors."
Unfortunately you can't use the technology yet to transfer your own films onto your mobile. Now that would be interesting - let's watch and see if that becomes a future reality.
Our verdict. The film we saw on the Nokia 73 was indeed crisp and clear, and it was just a click or two to get it to work. So easy to use and a great user experience. Although there are few movies out there on Mobiclip, given that the big names are involved, I think we can expect that to change quite shortly. Look out for the logo!