ActivePilot brings Sat-Nav to your mobile

Published 10 Jan 2008 Author
petew
Satellite navigation is become more popular with big price reductions and many competing designs. The basic price though can still be fairly expensive. Here we look at an alternative that uses the processing power and display capabilities of your mobile phone to offer an alternative pricing plan.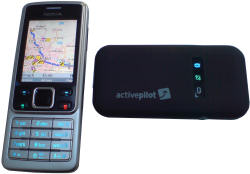 When you buy ActiveNavigation 6 from Falk what you get is a small 4.5 x 9 x 1cm (WxHxD) unit with curved edges and soft rubberised finished that contains a GPS receiver and a bluetooth transceiver.
The unit itself is very compact, looks good and will slip into trouser pocket or hand bag easily enough. There at three lights on the device. The first indicates bluetooth connection to a mobile phone, the second shows GPS status and the last indicates low battery.
To use ActiveNavigation you need to have a compatible mobile phone. The included quick-start guide walks you through how to download the navigator application to the phone via SMS registration. Once you've done that you can start the application, which will attempt to locate the bluetooth GPS device. Pairing is fairly standard. Once that's done you have access to fairly standard sat-nav features : choosing destination; entering favourites; selecting route preferences etc.
Unlike traditional sat-nav devices, ActivePilot does not hold maps locally on you phone. Instead these are downloaded on demand using the phones WAP capability. Neither as far as I could rell were the maps cached locally, so leave the ActivePilot application and then restart it causes the maps and associated route information to be downloaded again. For this reason, if you're comparing costs, remember to include the cost of whatever mobile data-service you are using. If you intentend to use ActivePilot regularly then it's worth buying data allowances in bulk or as part of your contract.
I mentioned earlier that different pricing strategy used by ActivePilot. Rather than pay once up front for everything you are buying a 'service' for that you pay to use - much like your mobile phone itself. A number of tariffs are offered, but luckily they are muchmore straightforward than phone tariffs!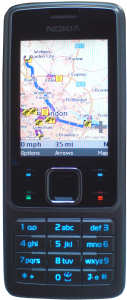 The simplest option is for the occassional user and involves you paying each time you want a new route. Currently these are priced at 79p per route.
For the more regular user you're offered monthly subscriptions for either the UK or the whole of Europe at £4.99 and £9.99 respectively. Note that if you are going to make use of ActivePilot outside of the UK data charges could be signficant!
Pedestrians are catered for as well as the car user. In pedestrian mode though you are given a arrow to show you the straight-line direction in which you need to be headed rather than left/right directions.
Also included in the kit is a car mounting bracket for your mobile phone, a car and a mains charger for the GPS unit.
Pros :
Makes use of your existing mobile screen
Live map downloads means your route will be up to date and allows you to include live traffic information in your planning
Small and lightweight, which is especially useful in pedestrian mode
Cons :
Most dedicated GPS units are going to have a much bigger display than your phone. We tested ActivePilot on a Nokia 6300 which although it has a good display it's difficult to see while driving
Navigation uses the number keys as shortcuts - again a little fiddly while driving
You'll need to carefully monitor data costs and make sure you have an appropriate data plan on your mobile
Price : The cheapest way to buy the ActivePilot is with a one months unlimited UK navigation plan. This costs £99.99 and you have your choice of black, pink or white GPS module. At the end of your first month you're onto the pay per route plan at 79p per route.
For the more frequent user you can purchase the unit with one year UK (£149.99) or one year Europe (£199.99) subscription.