Mio Digi Walker A501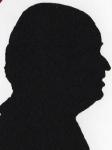 Review controls
This is a full featured PDA a phone and of course a GPS unit. However unlike some other PDA's with GPS abilities this is firstly a GPS unit and it has the ability to make phone calls and to be a PDA. Of course being a PDA you only have a soft keyboard.
Buy Now
Mio A501 (UK, GPS, Western Europe Maps)
£292.43 from Amazon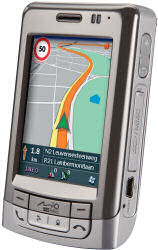 It is 9.5x6x2cm and weights only less than 150grams. The viewable screen is 5.5x4cm. As a GPS unit it works exactly the same as other recent Mio units reviewed. The only slight difference is that on first switch on you are at the Windows Mobile desktop and a tiny scroll down is required to locate the Mio Map v3 icon, click on this and around 15 seconds later you are at the Mio Map interface and planning your journeys like any of their dedicated GPS units. Yes the screen is smaller than some but you can choose how the display operates, portrait (default) or either of the landscape options.
The battery life in pedestrian mode was around five hours but it does not have the suspend mode that the dedicated Mio GPS devices have. Of course a car cradle and charger from cigar lighter are supplied. I would suggest this is useful for those who normally know where they are going and need a GPS infrequently or of course for the occasional walker.
Exiting from the GPS mode takes only a couple of seconds and then you are at the main PDA screen where any actions you normally can do in a Windows PDA are available. While this too can be used portrait or landscape there is only a single landscape choice with the buttons being on the left side. The default screen blanking is 60 seconds without a keypress but a tap on the on/off button on the top of the unit brings it back.
There is a quite reasonable two mega pixel camera with built in light this could be the single item that sways someone who needs a PDA, a phone, a camera and a GPS unit by putting them all in one unit. However while the GPS screen is a little small the accuracy is good, or course even when walking you cannot use the GPS and PDA or camera together.
As a phone you can make and receive calls and all the other things a modern mobile can do providing you have the correct services on your Sim card then you can even browse the Internet or send/receive emails.
In short this is an office in a box but unlike working in an office it is only tiny and of course you must be disciplined as swapping from PDA to GPS is not instant. You need to be in PDA mode to use the phone or camera.
I recently looked at the top of the range Mio the A520 and in my opinion adding all the bells and whistles detracted from the GPS. Here doing all the extras is fine providing you are the person who does not need a dedicated GPS unit. If you do then Mio have a number of units that can fulfil your needs.
I do not think this Mio PDA is any worse than most other offerings on the market as should you need extra storage you can take the supplied 1GB SD card with all the European maps out and put another SD card in, of course that turns it into a PDA.
The camera works well and having the light enables images to be taken where a camera without a light produces inferior images but of course it is not a digital camera. I am sure anyone whose life revolves round a mobile phone could find fault.
A nice fabric case is supplied with a magnetic catch to avoid damage to the screen when in a pocket and I found that the GPS signal was probably still maintained.
This is a product for that person who needs it all but in small bits. The Mio Digi Walker A501 is available at a best price of £292.43 including delivery from the link below.
http://www.amazon.co.uk/Mio-A501-Western-Europe-Maps/dp/B000VOC8SM
http://www.mio-tech.be/en/gps-navigation-device-Mio-A501-overview.htm