Sidekick 3 from T-Mobile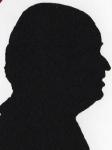 Review controls
For those readers of shall we say 'more mature years' you will remember Sidekick as perhaps the first PIM (Personal Information Manager) product on the market, here it forms part of a mobile phone offering from T-Mobile.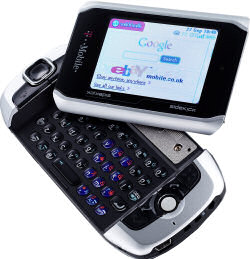 This is neither small or light - if that's what you want T-Mobile have lots of other units - this is a PIM that allows you easy Internet access and collection of emails oh and just for good measure you can make phone calls and text messages etc.
It is 13cm long, 6cm wide and close to 2.5cm thick when closed, in order to make a call you have to flip the screen to reveal a 47 key keypad - very useful for entering web addresses - but this increases the width to 10cm and the thickness to 3cm. You could have your conversation in this configuration but once you have dialled you can flip the screen back so you look more normal when talking. Its overall weight around 200grams.
It has a 1.3mp camera that takes reasonable images but the internal memory only has enough space to save three images, however the device takes mini SD cards and unlike some devices you only need to remove the back cover to insert and remove them. A 64MB card should store more than 100 images.
Perhaps the most unusual feature of this Sharp device is the 5.5x4cm screen, it is face out making the supplied belt grip case rather important. This however is not the feature but the way it rotates with a single thumb push (in the right place) to firstly rise slightly from the horizontal and also reveal the keypad.
No mention is made for the correct way to hold the device, you could go for the two hands and using two thumbs to input data or the single hand single finger (of other hand) I tried both but was happier with the latter as my thumbs are quite thick. The keys are domed and do need to be pressed so not to many spurious entries.
An 84 page reference guide is provided and it is probably a good starting place, most changes are eas to make once you have discovered how to get to the place to do it.
Either end of the device (the two thumbs) control the eleven sections of the device and the left thumb lets you move sequentially through them. At the far left is web browsing, simply enter the URL if there is a simple version of that site it will use it -like the BBC- if not it reformats it for the screen size and even graphics seem to display correctly. Using the T-Mobile Web 'N' Walk makes Internet access easy. The next option is email for those who just cannot go anywhere without connectivity. Again the screen redraws the text - up to 11 lines visible - and despite the size it's still very readable.
Next choice is Instant Messaging, then the default when you switch on or if you leave it for a while it reverts to phone. While numbers can be entered from the top line of characters they can also be entered from a set of twelve dual alpha and numeric keys from the central part of the keypad. Next is phone messaging, then Address Book and then the Planner, so many peoples life would just stop without something like this.
Now the Camera it's not as easy to access as some but a few presses can get you to it. Next is Sonicboom as you might gather this is a music player and thankfully for everyone else they is an earbud socket so the built in speaker can be reserved for phone ringing and appointment alarms, better still put everything through the earbuds when in public. The final two entries are Games and Catalogue.
Certainly a device that takes time to get used to, there are lots of buttons and apart from that two jog wheels, initially it's easy to push the wrong one, however over my test period I began to get used to it, phone reception was good and so was Internet connectivity using Web 'N' Walk.
For more details of Sidekick3 and other T-Mobile offers check out the link below.
http://www.t-mobile.co.uk/shop/mobile-phones/phones/pay-monthly/t-mobile/sidekick-3/overview/