HP iPAQ Travel Companion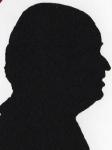 Review controls
While HP is no stranger to navigation this is the first of their units I have seen that is dedicated to satellite navigation. The others were iPAQ's where an SD card provided the facility to the PDA, this is totally different as it's primarily a navigation device.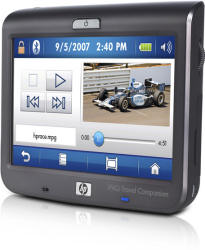 Click image to enlarge
First the size it's 11x8.5x2cm and although I have used it on a bus there is no pedestrian mode so only designed for in car use and of course all the required fittings are supplied. However the battery gives enough power for around two hours use away from the cars cigar lighter power.
Working your way round the unit produces a few surprises and even the odd innovation, certainly NOT something to do whilst driving, of course if you are the passenger it's fine providing the driver is concentrating on the driving. However I prefer a bus journey as this shows the accuracy and you can experiment without and worries. Especially when changing the view, 2D, 3D and above like maybe a helicopter looking down.
On first switch on there are a few housekeeping screens including the disclaimer about using it when driving. The front screen has five touch areas Entertainment, Contacts, Navigation, Extras and Settings. Behind Entertainment are videos, music, pictures all that you load via the SD card slot. There are two games supplied. Contacts hides the information you input while Extras are a Calculator, Clock and Bluetooth connection to a phone, so technically you have a hands free kit or sorts. Settings are the folders you choose and items such as language and country relevant to the sat nav.
The default is kilometres and metres but you can choose miles/feet or miles/yards.
On looking at the range of fittings and bits provided there is a rather nice slip case to put the unit in (in this day you would be mad to leave it on view in an unattended car) so to avoid damage to the screen while in a pocket or bag it's supplied. Why oh why cannot camera manufacturers do the same, yes HP do make digital cameras.
The front screen of the navigation has Go to (where you plan your journey) Route (where you edit and examine) Navigation Extras (this was empty on mine) Settings where you choose warnings, sound and visual and finally Map where most of your time will be spend. The actual viewable area is 9.5x4cm with bars above and below this with information.
You choose the view 2D, 3D etc by tapping on the cursor shown at the time choosing the type. Certainly not something you want to experiment with whilst driving.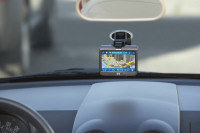 Click image to enlarge
The bottom of the screen displays date, time or both I found the format of year, month and day a little strange. The second icon is a target and press this to get an overview of the route where you can select a range of choices including adding a speed camera. The third is satellites and I found in normal use between six and eight were in use giving an accurate 'high' signal. A poor signal was achievable from two most units require at least three and this could be useful. The next shows either elapsed or remaining time. The next your current speed. Finally for the bottom the home icon returns you to the front navigation screen.
The top has connection for your phone, music via MP3, sound volume and an area in the centre that shows the road you are on and this can scroll should the information not fit, I found this feature rather off putting.
Onto the map area this was quite clear with the map detail depending on your speed you also get overlaid info on what your next turn is. The automatic night mode is quite a shock when first seen again I state get used to it on a bus, other modes are car, lorry, taxi and bicycle. Why no pedestrian? My other observation is certain settings are made inside navigation and others outside all reasons to know what and which before you venture out in the car. Doing my searches found the HP iPAQ 314 Travel Companion at a best price of £231.72 including delivery from the first link below.
http://www.amazon.co.uk/HP-iPAQ-314-Travel-Companion/dp/B000WF6P9I
http://h10010.www1.hp.com/wwpc/uk/en/ho/WF06b/21675-21679-21679-21679-297609-80594582-80867460.html