Reading Glasses from Compact Lenses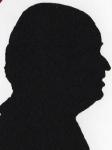 Even if you have good vision for things like driving and TV as you get older you are likely to need glasses for reading. While some can go to a pound shop and find something that works for you perhaps size is something to temp you.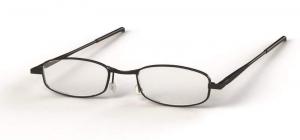 click image to enlarge
If your eyes are different in their viewing ability you need a prescription but if you are just find the daily paper harder to read – and I do not mean the small print at the bottom of adverts – then something off the shelf may well fit the bill.
If the glasses look the part then the ribbing a non-glasses wearer might otherwise get will evaporate.
These glasses from Compact Lenses are flat-folding reading glasses. Not long ago the fashion was for far larger glasses that required a large case. Unbelievably the case these come in is less than one centimetre thick and only 5cm wide and 15cm long so it should fit in any pocket without an unsightly bulge.
The lenses are oval 5cm long and 2.5cm wide in the centre.
When collapsed the glasses are 3.5cm thick so how do they fit into a case less than a centimetre thick?
Double jointed is one reason the first 2cm of the sides can fold upwards as well as backwards.
When they fold backwards they then form part of the sides that lay flat over the ears and are held in place by slight pressure on the side of the head and not by looping over the ears.
When they fold upwards the rest of the sides go flat over the lenses and so fit comfortably into the area cut into the case to hold them securely. The case can then snap shut and you can carry glasses around for when they are needed.
The pair I was sent had 1x lenses which is plenty for me as while I can – and do – read without glasses I do feel strain after a while. No doubt – for a price such lenses could be prescribed by an optician.
You do need to find out if both eyes are the same as whatever the cost you cannot get replacement eyes the nearest thing apart from glasses is laser surgery and that definitely is not cheap.
If you have worn glasses since childhood then vanity does enter into it, if not then probably small is best and these definitely are small.
The ones sent to me had black rims (Jet) – I will not call them frames as they are so little – but I see there are 12 different colours all given names and the snap case matches the colour of the rims.
There are five strengths available between 1x and 3x in .5x increments.
One place I found them on sale is Foyles £19.99 or £15.99 if you use the Foyles mail order service.
http://www.foyles.co.uk/witem/gifts-stationery/compact-lenses-surf-10,if-5035393917067