San Disk iXpand Flash Drive and Cygnett ChargeUp 11000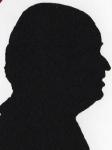 The first a 32GB stick 'for iPhone, iPad and computers' is how this double ended memory stick is described. The second the largest capacity 'Portable Power Charger' I have currently seen at 11000mAh with both 1amp and 2.1 outputs.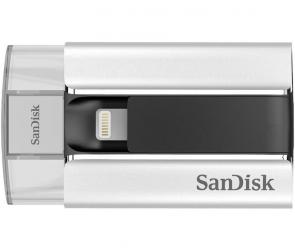 click image to enlarge
San Disk iXpand 32GB Flash Drive
It looks like a slightly large USB memory stick and indeed it is but apart from being able to move items from one USB device to another it does something two other things.
It is 3.5cm wide around 1cm thick and around 6cm long.
Its width will require either a flush fitting USB port or a USB extension lead. When inserted around 4.5cm is exposed from the PC.
The first extra thing is the ability to transfer files either to or from Lightning devices.
The second extra is the software provided by San Sisk on the drive to encrypt your files so even if the drive is lost/stolen/misplaced no one else has access to it.
This is a USB3 device but can be used with PCs that have USB2 and I transferred files between both without problem, USB3 is in theory 10x faster than USB2 but in practice often only around 5x faster or even less.
Transferring 1400 files with a size of close to 10GB from a USB2 port to the device took 17 minutes not especially fast. Transferring then back to a USB3 port took 14 minutes. Yes the first figure was read and the second figure was write but I do not think 'speed' is the most important thing here.
The reason why I was a little approximate about the thickness is that the Lightning port is on the top and attached via a strong not very flexible rubber lead at 3.5cm long.
The San Disk iXpand 32GB Flash Drive is available from the link below for £57.99 with free delivery.
http://www.amazon.co.uk/gp/product/B00RBGYPO8?ie=UTF8&tag=gadge0a-21&linkCode=as2&camp=1634
Cygnett ChargeUP 11000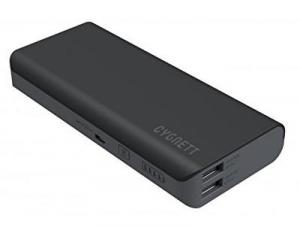 You are most likely to use one of these devices when your SmartPhone or Tablet runs out of power and of course you will be away from home/office so no power point or other PC is available.
As stated this is the largest – in capacity – I have currently seen beating by 200mAh the excellent product I have been using for several months from TP-Link.
It is 14x6x2cm and weights a not insubstantial 285grams. It comes with a single 13cm long micro USB to USB lead which is grey matching the main colour of the power brick which has three sides in red.
If you stood it on its end the right side has micro USB input – to charge the brick – and above this an on/off button above this four LEDs that light blue to show the current state of its battery.
Just onto the top are two USB sockets that allow you to charge two devices simultaneously.
Apart from running a number of tests to meet the claims of its storage power I have also left it fully charged and waiting to be used for a whole month and it does not appear to have lost any of its charge.
Often these are small devices capable of charging your phone for say 30 minutes of use this however can charge most tablets fully and more.
Although it comes with the stated 13cm micro USB to USB lead that can output 1amp, it can also work with Lightning devices from one port to charge at 2.1amp. This is the port furthest away the way I described the item and it is imprinted on the red surface in red the one minor fault I can find.
The Cygnett ChargeUP 11000 is available from the link below for £38.59.
http://www.amazon.co.uk/gp/product/B00MU0KOMC?ie=UTF8&tag=gadge0a-21&linkCode=as2&camp=1634