Proporta Gizmo 1000 Turbocharger and SafeKeep Wallet

Published 16 Jan 2015 Author
bidmead
The most frequent complaint with smartphones is the duration of the battery. If you're lucky enough to have a phone with a removable battery, the answer is to carry a spare. But the trend for today's phones seems to be towards inaccessible batteries embedded in an enclosed shell. Brighton-based tech accessory specialist Proporta has come up with a solution. Most of us carry wallets for our cards and cash, so why not design a wallet that includes an emergency phone charger?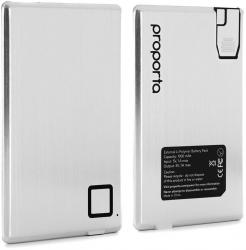 click image to enlarge
In fact this is one of a range of three new phone chargers the company introduced at the end of last year. On its own the Gizmo TurboCharger 1000 (the number denotes the charge capacity in milliamp-hours) sells for £14.95, but it's included in the £34.95 price of the credit-card-sized Safekeep Gizmo Wallet.
The wallet is made from black, satin-lined leather, with one of the six credit card pockets picked out in red, and it folds into a pocketable rectangle, approximately 9x11 cms. Bank notes, credit cards and the TurboCharger 1000 stowed away in the specially provided external pocket will fill it out to a thickness of about 2cms. There's no provision for coins.
The red accent of the credit card pocket on the right of the wallet is more than just a style note. That particular pocket is RFID protected, allowing you to keep a card in there that will be safe from digital theft and won't cause card clash with an Oyster card. Proporta provides a Youtube demo here: https://www.youtube.com/watch?v=0CgO5IalnNw
You could easily pay £35 for a brand-name leather wallet without the phone charger and RFID protection features, so the price seems reasonable. The little Turbocharger 1000 is unobtrusive, and will always be on hand when you need it (provided you remember to keep it topped up). One caveat: it has less than half the capacity of the average smartphone, so it's a strictly "get-you-home" device and not a substitute for serious in-the-field battery extension. For that you'll definitely need one of the other two chargers in the new range: the Mohawk TurboCharger 8000 at £29.95 or the Stripe TurboCharger 12000 at £39.95.