Laptop or Camera Bag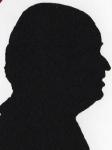 Review controls
First an offering from one of the largest names in Laptop or Notebook bags STM, second an offering from probably the most used peripheral manufacturer but this time a name associated with quality DSLR cameras.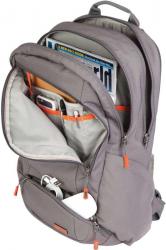 click image to enlarge
STM Impulse Laptop Backpack
A backpack has one huge advantage over a handheld bag, you are less likely to put it down and forget to pick it up again.
It is 47x34x9cm and weights around a kilo when empty.
It is a rather sober grey colour which is suitable when you go into posh meetings. The only bit that is visable that is not grey are the tips of the zip pulls that are orange. However open the various and numerous pockets and more orange is there.
The shoulder straps start at the top and the bottom anchor points are just 3cm above the base, the straps are well padded as indeed are the areas on the back of the pack that would come into contact with your back.
The main compartment has a slip pocket facing the rear and a more heavily padded slip pocket facing the other way. The first is 22cm wide and 26cm deep. The second is 26cm wide and 38cm deep.
Move further forward and there is another full width zip which reveals a 28x30cm pocket (not padded) and the main compartment to carry things such as a change of clothing and a power supply.
One more zipped pocket on the face of the unit this is 27cm deep on one side and 24cm deep on the other, this has a 21x22cm zipped pocket as well as an open pocket front sub divided with an 18cm wide offering and three 3cm wide offerings suitable for pens etc. On the left of this but inside the front section is a clip suitable for attaching a keyring to.
Finally along an area just above the base a semi circular zipped pocket that could contain something like a plastic mac for those occasions when the weather wins.
This is a comfortable backpack that will take most 15inch laptops. I see that it is also available in black.
The STM Impulse Laptop Backpack is available from the link below for £74.03 with free delivery.
http://www.amazon.co.uk/gp/product/B00BHHBK6S?ie=UTF8&tag=gadge0a-21&linkCode=as2&camp=1634
http://www.stmbags.com.au/catalog/laptop-bags/impulse-medium-laptop-backpack/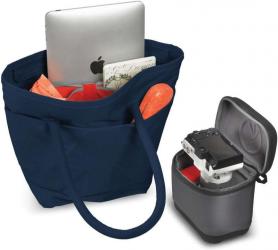 click image to enlarge
Manfrotto Diva 15 Bag
Outwardly this looks like a black fabric shopping bag. Which if it contains a £1000 camera can be a good thing.
This is capable of holding a camera up to 12x14.5x9cm in a very well padded area.
The bag itself is 31x38x16cm with the handles adding 20cm to the 31cm height. The overall weight when empty is .74kilos.
The front has two pockets 15x16cm useful to hold small items.
The main compartment has a zip along the top, inside is the main storage area that has a separate padded container to double protect your camera.
At the back a 32cm wide area with a Velcro strap to hold items in place. This links over another padded area only slightly narrower, both these area are 25cm deep.
The majority of the internal areas are grey, however there are two zipped 12cm areas with orange covering towards the centre of the unit these are 10cm deep.
The 'very well padded area' is held in place by a Velcro strap and if removed provides a zipped padded container 15x10x12cm.
Among the cameras that this bag fits are Canon EOS M, Nikon 1 series, Olympus Pen series, Sony NEX series, Samsung NX series, Pentax K and Q series.
The inner padded container seems to be called an 'Anti-Stock Camera Insert.
The Manfrotto Diva 15 bag is available from the link below for £49.95 with free delivery.
http://www.amazon.co.uk/gp/product/B00B7T5CNS?ie=UTF8&tag=gadge0a-21&linkCode=as2&camp=1634
http://www.manfrotto.co.uk/product/0/MB%2BSV-TW-15BB/_/DIVA_BAG_15_BLACK_STILE_PLUS