Cutting Down Background Noise

Background noise is all-too-often intrusive and often prevents us listening to music or, what can sometimes be worse, having a meaningful phone conversation. This is particularly troublesome when on the move. The Digital Silence DS-321D in-ear stereo headphones are designed to cancel out a large amount of the unwanted noise electronically leaving the desired speech or music to be passed on to one's ears.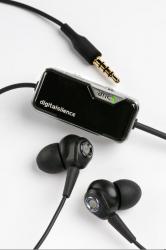 click image to enlarge
The DS-321-D is just like a conventional headset except that, when switched on, there is a noticeable reduction in background noise so that the wanted speech or music comes to the fore. Consequently, even in a noisy environment one can appreciate the sound quality that this headset offers and so one can have relaxed listening.
Based on technology developed by audio and noise cancellation specialist Wolfson Microelectronics, it consists of the in-ear headphones with outward-facing noise microphones, an in-line voice microphone, plus an in-line pod containing the electronics and rechargeable battery.
The pod, which is about 40mm long, incorporates a slide clip so that it can be easily attached to a shirt in such as position that the on/off switch and monitor push-button can be reached and the power-on LED seen. While the monitor control is held pressed it is effectively an override to enable one to carry out a conversation with someone nearby or listen to external sounds such as flight and other announcements which one often cannot afford to miss. The cable to the LH earpiece has been made shorter than that to the RH one. It is therefore convenient to run the cable tidily around the back of one's neck. Not only is this comfortable, it reduces the likelihood of the earpieces being tugged out of one's ears.
Phone calls can be answered just by pressing the push-button on the inline microphone and then are terminated in a similar manner. I found the in-line microphone satisfactory for making phone calls in a normal environment even though I did not the opportunity to try it out under difficult circumstances.
Digital Silence claims that a 2-hour full charge of the lithium battery (suitable micro USB cable provided) will give 14 hour playback time. Importantly, however, even when the battery needs recharging (or with the DS-321D is switched off) the headphones still work in a passive mode.
With its 3.5mm 4-pole connector it is directly compatible with Apple, Motorola, HTC and Blackberry products while an adapter is also provided for compatibility with Nokia, Sony Ericsson, Samsung and other devices. Overall, including the 145cm of cable the unit weighs just 28g and is supplied, complete with three sets of soft ear buds in a neat zip-up case.
Available in black or white at a list price of £69.99 the DS-321D could well be a good investment for the committed headset user -- irrespective of whether for entertainment or when on the phone -- as its noise cancelling will take a lot of the strain out of using a smartphone so that one is less likely to have a headache and a bad temper at the end of a long day.