Access My Ditto anywhere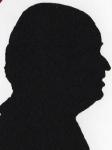 Review controls
This is a media storage box, but not a normal one that will only work within the local network. You can access data providing you're my Ditto box is connected to your router from anywhere in the world securely using a USB key.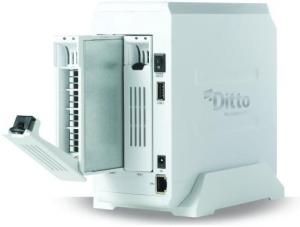 My unit is a dual disc box it is 19x16.5x8cm and weights around 2.6kilos with two discs inserted. Inserting and removing a disc is just a matter of opening a catch and then removing a tray. My unit came with a single 1TB drive. While the power lead was of a good length the Ethernet cable supplied was extremely short.
Having two drives would enable you to set up a Raid arrangement. While technically this means the array could be 4GB (two 2GB drives) for most unless you are running a large business far smaller like the entry level 2X500GB unit would be more than sufficient.
The rear of the unit has the two drive bays and to the right of these the on/off switch, a USB port, the DC input and an Ethernet port. The sides top and base have no controls. This leaves the front that has a line of seven LEDs a button marked release and a button marked copy and finally a USB port.
With the drive you are also provided with two 2GB USB sticks. One is grey and the other white. The grey one has already been paired to the drive. As things stand the only way you can communicate with the box is by inserting the grey USB stick in a port on a PC its unique number allows connection to the my Ditto box. It is possible to have further keys so that more than one connect to the box and should one (or more) of the keys be lost or stolen then you can release the box and then recalibrate it with another USB key or range of keys.
Not the greatest security in the world but it is designed basically for home (or small business) use and it means all files can be available anywhere.
Plug the USB key into a PC and the software on the USB key should load – in my case after a couple of uses I had to start the software manually to opening in My Computer and viewing the files and then selecting the My Ditto file – this then searches out the My Ditto device it is registered with and then you can see and transfer files either way. If you update a file then that file is updated both locally and remotely while you are connected.
The main selling point is that the user needs to know nothing about how to use a NAS drive they just need the USB key. This is definitely a zero configuration product even if you do need to manually start the program.
Currently you can play MP3 files over the local network. A journalist friend of mine says you can also stream video but this always produced an error for me. This is a very young product and I have my doubts security wise, however convenience wise it is great, just remember to leave your router connected when you leave home.
For those who know a little more it does support UPnP, DLNA 1.5 and even iTunes, it has FAT, NTFS and EXT file system support. I used it with Windows XP, Vista and 7 but it is also stated to support MAC OS 10.5 as well as some flavours of Linux. It is also stated to work with iPhone and Windows Mobile 6.1 of higher devices.
This unit is also a My Ditto server so anywhere within your home network files, pictures, music and video can be shared by anyone on the network. Of course any sensitive files can be password protected in the normal way.
If you want a NAS and you also want to sometimes access it from outside your home network then My Ditto is certainly worth a good look the second link below has a lot more information and any unanswered questions can be asked of the people from Dane-Elec who produce it.
Doing my internet searches found the My Ditto 1TB version at £187.95 from the first link below.
http://www.amazon.co.uk/gp/product/B003HKKQOK?ie=UTF8&tag=gadge0a-21&linkCode=as2&camp=1634
http://www.dane-elec.fr/index.php?option=com_content&view=article&id=49〈=en