Charging from iGo and myBunjee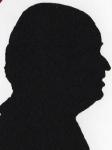 It matters not if your device charges from mini or micro USB or uses the iPod 30pin connector. Here are two separate devices the first for your USB items both those of micro and mini type; the second for almost all 'i' type items. The third a device for those you manage to drop their phones.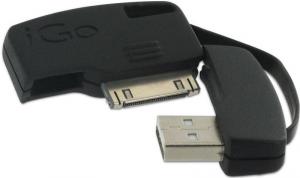 click image to enlarge
Key Juice for iPod, iPhone and iPad
Almost every 'i' device comes with a white lead one end is the 30pin connector that charges your 'i' device the other goes into a USB socket to charge and or transfer data to the device, however they also seem to be very adept at escapology. I have two iPods (one no longer works) and an iPod Touch so in theory I have three leads.
With luck I can find one as both devices use the same lead that is not a major problem but if that vanishes then …
This device from iGo is 4x3x.5cm and weights 9grams so it's small and light and on the face of it an ideal candidate to escape. One thing stops this it is fitted with a key ring attachment and as most soon learn no keys is a problem.
Open the device – it splits in half and you have a 4x2.5cm 'i' device connecter and up to 4cm away a 4x2cm USB connector.
So providing you do not lose your keys then your iPod, iPhone or iPad can be charged or perhaps more vitally synced as there are lots of speaker units out there that allow charging of most 'i' devices but not transfer of data.
This simple device is available from the link below for £7.42 with free delivery.
http://www.amazon.co.uk/gp/product/B0053XBU0I?ie=UTF8&tag=gadge0a-21&linkCode=as2&camp=1634
KeyJuice for SmartPhones
In fact this is similar to the above device but has dual heads, the centre is the standard USB while one end has micro USB and the mini USB. The majority of recent phones use one or the other to charge their rampant batteries.
4.5x3x.5cm is the closed size and it weights just 11grams. Open it and the mini USB can be up to 4cm away from the USB and the micro USB up to 6cm away. The mini head is 2.7x2.7 (at the head end) and the micro 2.7x1.5cm.
Just like the unit above it has a fitment so it will attach to a keyring and so wherever you have a USB port you have the ability to charge your phone. However just think how many other devices like MP3 players also use the same method or charging.
While I might have more devices than most dotted around I always manage to find micro cables when I want mini cables and almost unbelievably mini cables when I want micro cables, I believe that's called 'Mr Sod's Law'.
Available from the link below for £7.38 with free delivery.
http://www.amazon.co.uk/gp/product/B005EJO97W?ie=UTF8&tag=gadge0a-21&linkCode=as2&camp=1634
myBunjee
This device was pressed on me in the press office at the GadgetShow. Being a dinosaur male I found it hard to use as it happens to be pink, they do I am pleased to say do lots of other colours for people like me, ladies will love it as it is.
A simple piece of rubber 5cm wide allows you to slip your phone in, thos is connected to a silvered key grip by 20cm of curled lead that stretches easily to 40cm, so providing you attach it to a buttonhole at least 50cm above the ground it will save that thud when you suddenly discover religion until you see if you phone has survived.
With myBunjee your phone should survive as it will stay in the air for you to catch hold of. It is available from the link below for £7.93 with free delivery. More details from www.mybunjee.com
http://www.amazon.co.uk/gp/product/B004RGB4GM?ie=UTF8&tag=gadge0a-21&linkCode=as2&camp=1634