Universal Desktop Charger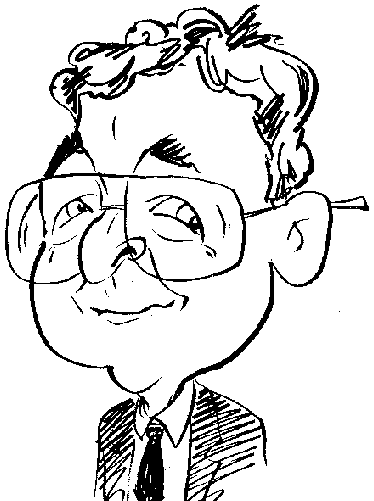 Review controls
With smartphones, mobile music devices and other electronic gadgets it can sometimes be difficult to find all the power points necessary for recharging purposes. One solution could be to use a universal desktop charger.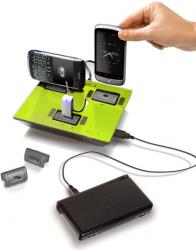 click image to enlarge
Several months ago I was introduced to a product from Inoitulos, a Spanish technology consultancy. This product was the IDAPT i3 which is a Universal Desktop Charger. The "i3" part of the product's title indicates that it was capable of charging up to three different devices simultaneously. Now the company has come up with an enhanced version of the product. This new version provides the means for powering four devices at the same time. You should not be too surprised to hear that this new product is entitled IDAPT i4.
When purchasing this device from the company's web store (http://www.idaptweb.com/UK/store/idapt.html) you have a choice of six colours. You can select from light blue, lime green, matt black, metallic blue, hot pink and scarlet red – the review sample was the lime green model which would not have featured in my top three choices if I had been given the option.
The IDAPT i4 has dimensions of 169 x 135 x 32mm (W x D x H) and can be positioned on any flat surface without taking up too much space. The top of the device features 3 fairly deep bays in a two at the back, one at the front layout. These bays can hold tips designed for use with different manufacturers' products. As standard the IDAPT i4 comes with six popular tips. This standard set consists of tips for the iPod/iPhone, Nokia 2, Samsung 4, Sony Ericsson 2 plus devices that have a microUSB and miniUSB connection. You can insert and switch these tips as necessary to suit your own collection of devices when the need arises.
It is impossible to insert these tips in the wrong way round as they only fit one way. When you need to replace a tip, there are a couple of buttons on either side of each bay. You need to press these quick release buttons so that the tip is ejected. However you might need to take care as I often found that the tip was ejected with enough force to make the tip fly upwards. For connecting the fourth device you need to use the standard USB socket located on the right side of the unit. This USB option will allow you to charge a wide selection of devices including the Apple iPad.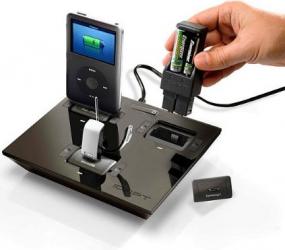 click image to enlarge
An on/off power switch is positioned on the top of the device near the rear. When power is turned on the IDAPT i4 is capable of delivering 14W which should be enough to service four devices simultaneously, LED lights situated at the front of each bay will glow green to indicate that it is available for use. These LED lights turn red when they the bay is actually supplying power to attached devices. Once the recharging has been completed the LED will revert back to green – despite what is printed in the folded User Guide sheet. This answered one of my criticisms of the earlier product.
While the standard set of tips supplied with the IDAPT i4 might represent popular devices, they will not appeal to everybody. Fortunately there are 25 different tips providing support for over 4,000 devices. You can supplement the standard set with an additional purchase (tips cost from £5.99) or you could opt for a customised set of tips when purchasing the IDAPT i4 from the company's web store. Taking the latter route allows you to cherry pick from the available tips but you are reduced to select four rather than the six pre-selected tips. Both products are available at the same price of £39.99.
The IDAPT i4 is a definite improvement over the i3 version of the product. You can now charge 4 instead of 3 devices. A visual indication showing when power is on and when devices are recharging is supplied. My only remaining criticism is the lack of a bag or container to hold the various tips. Other than this the IDAPT i4 is well worth considering by those with multiple devices that need recharging on a regular basis.