WorldTravelAdapter Plus USB Charger

This is claimed to enable one to get connected in over 150 countries worldwide. Consequently, it will meet most people's needs and yet only weighs around 150gm and so is an ideal travel accessory for the computer user.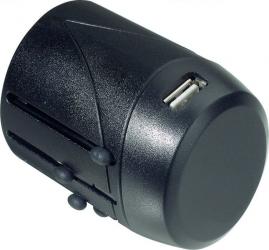 click image to enlarge
It meets the need of the traveller who wants freedom from hassle and the ability to charge one's notebook, cellphones, PDAs, and iPods etc. while carrying the minimum number of chargers and mains adapters.
This device, from Swiss Travel Products and sold in the UK by PowerTraveller, a specialist in essential travel accessories, consists of a roughly cylindrical base unit into which all the mains connect pins retract when not needed. It is 5cm tall and comes supplied with two connector caps. One of these is the USB charger module while the other accepts standard mains plugs -- British, European etc.
Dependent of the power socket available, the user selects between European, US, Australian and UK pin arrangements. This is done by pressing the release button and sliding forward one of the four selector levers on the side of the base unit. This release button is also pressed when swapping the two connector caps.
The Adapter appears solidly built. It is protected by an in-built 2.5A fuse (a spare is provided) and is clearly marked with its power rating: 550W at 220V or 225W at 110V. This is more than enough for any notebook computer. A stick-on label points out that the unit does not convert voltages and warns against using it with a hair dryer as this would obviously exceed its power rating.
The USB connector cap has a rated output of 500mA, which has a standard USB connector on the side, will provide the power for any of those pocket devices that we carry these days.
Overall, this adapter addresses problems with which those travelling abroad have to cope and so will be a boon to the regular traveller. Those who only go abroad occasionally on holiday will also probably find it useful because, even if they are not faced with foreign sockets except while on holiday, they will find a regular use for its USB power source while in the home or office.
My only caveat was that as it did not come with a small storage bag it is possible to mislay either of the two connector caps or the spare fuse. Despite that, it has become a standard part of my travel kit.
As well as being available from www.powertraveller.com at £19.99 incl. P&P, it can be found on Amazon at £18.15.