Altec Lansing update their Orbit with the iMT237

Published Nov 28, 2008 Author
petew
Around a year back I reviewed the original Altec Lansing Orbit. One year on the design has been revamped and I'm pleased to see that one of my few criticisms has been addressed.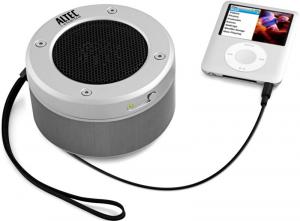 click image to enlarge
Despite keeping the circular design and 3xAAA power source the new Orbit - the Altec Lansing iMT237 has had a significant make over from the iM207 that reviewed this time last year. For a start it's bigger. The diameter of the unit is about the same however an additional 15mm has been added to the height and the tapered cone like appearance is replaced with a squat cylinder.
My main criticism of the original orbit was the lack of feedback to know that the unit was powered up - there was none. The result being that on very many occasions the Orbit was left powered up when not in use resulting on flat battery when required. I'm very pleased to see this rectified in the new Orbit, with a very obvious and bright LED.
The device is also switched on with a more obvious push button, contrasting with the previous mechanism whereby the whole of the speaker grill acted as a rotary power switch.
The extra size of the base serves to improve the sound quality of this Orbit over that reviewed previously providing a richer sound that is very impressive given the size of this unit.
The Orbit supports any MP3 player with a standard 3.5mm jack output. Also provided is a simply right-angle 3.5 - to - 2.5mm converter that will allow you to use the Orbit with additional mobile phones. An integrated lead wraps around the base and clips into place for safety during your travels. The lead is 21cm, which is fine for most travel situations.
A fresh set of AAA batteries should give you around 24 hours of use - depending on volume - which is pretty impressive.
Although built to be robust, there's still a chance of a knock when travelling at the bottom of a bag full of all and sundry so Altec Lansing have provided a neat grey zip-up carry case for additional protection.
If size really is of paramount importance, the original Orbit is still available. If you can live with that additional height though you will be rewarded with better sound quality.
The Altec Lansing iMT237 Orbit-MP3 is officially priced at £29.99. Checking the authorised distributors in the UK, the only one I could find shipping the iMT237 is Amazon, with a price of £27 - but to this you have to add £4.70 for shipping.
The Altec Lansing iMT237 is officially priced at $39.99, but can be purchased from Amazon for $32.70, including shipping on the following link :
http://www.amazon.com/gp/product/B001ELK2NY?ie=UTF8&tag=gadge0a5-20&linkCode=as2&camp=1789
The Altec Lansing iMT237 is available for €44,75 from Amazon, including shipping, on the following link :
http://www.amazon.fr/gp/product/B001GQZ77I?ie=UTF8&tag=gadge04-21&linkCode=as2&camp=1642