Netgear's Gigabit Powerline

The Netgear Powerline PLP1200 is the latest and fastest kit to provide network connectivity via the household wiring.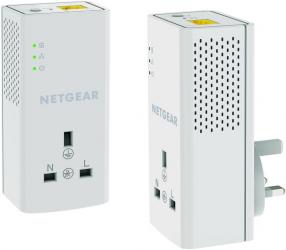 click image to enlarge
Each plug, which is Homeplug AV compatible, is 120 x 55 x 50mm deep, white in colour, with the mains plug and its associated power feed-through socket at the lower end. (There is also the PL1200 without the power feed-through.) It is narrower than many of the previous generation products so that it is easy to reach the switch on the wall socket. Similarly, if one is forced to use a multi-way mains extension lead rather than a wall socket (which is not, by the way, recommended) it does not overlap and obstruct adjacent sockets.
The status LEDs are on the face while the Ethernet port, security button and factory reset button are on the top. The Power LED indicates when the adapter is powered up, in standby mode or, by blinking green, in the process of setting up security while the Ethernet LED shows whether or not the port is linked. The lowest LED, the "Pick A Plug" LED gives one an idea of the link performance: red, less than 50Mbps; amber between 50 and 80Mbps; and green when the link is performing best at in excess of 80Mbps. Netgear's idea being that, by checking which colour shows, one can select the power outlet that gives one the best link performance.
In practice, the kit works "out of the box". It is just a matter of plugging the two adapters in: one near the router and the other close to the device needing to be connected to the network and then connecting the two supplied Ethernet cables. However, it is a sensible security precaution, to change the encryption code from the default. This is done by pressing the security button on one device for 2 seconds and then, within 2 minutes, similarly pressing the security button on the other.
The PLP1200 is backwards compatible with Homeplug AV 500Mbps with which it can co-exist and interoperate but, obviously, at the lower speed. Extra devices, up to a total of 16, can be added in a similar manner to changing the encryption code as above. In addition, the PLP1200 can co-exist, but is not interoperable with the older (and slower) Homeplug 1.0 and 1.0 Turbo devices.
The Powerline PLP1200 kit, at about £80 on Amazon, provides a quick and easy way of extending the reach of Ethernet around the house especially as the units provide mains pass-through and so an additional mains socket is not required. While there are lower cost -- and lower speed -- units available on the market the majority of users will appreciate the better performance of the PLP 1200.