Epson Moverio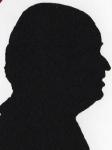 Review controls
This consists on a pair of glasses with earbuds connected by a short lead to a small box. My thoughts go back to early handheld CD players however here you not only get sound but also vision and the box has an Android system.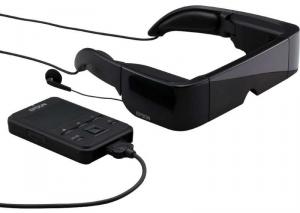 click image to enlarge
The term 'learning curve' seems to have fallen out of favour, this revives it. While with help I managed to get it to do all it was supposed to do you get a chance to learn the art of touch as with the glasses on you cannot see the box and you need to control the cursor on the screen you may also need to use a button on two on the box so you do get the chance to see things as a blind of partially sighed person does, an interesting experience.
As an occasional glasses wearer I found them uncomfortable to wear, however after a while you tended to get used to them. The size of the screen you see depends on how closely to your eyes the glasses are, so down your nose a bit gets a bigger screen but this can also mean that you need to tilt your head a little to see clearly.
The control box is 13x6.5x1.8cm with the all important lead to the glasses connected. The lead is 1.2metres and just over half way down its length is a clip for shirt or jacket. The cable then splits into going to each arm of the glasses. Emerging from each arm are 10cm sound leads ending in buds, these can be detatched separately.
The control box has a trackpad and under this three bar buttons, under them two further bar buttons and the ubiquitous five position joystick. The right side has volume up and down buttons. The top has on/off button and the base external headphone, connection to glasses and USB sockets. Finally the left side has a door behind which you add any micro USB card.
I found entering the Android system something of a trial. First you have to get used to placing your finger on the 4x5.2cm trackpad of the control box by touch, then to enter beyond the opening Android screen you have to move the white blob (cursor) up the screen from the padlock towards the top. I was told some pressure was needed, I found a good tap followed by pressure but it does take some practice to get it to a point where it works.
Once 'in' things get better, the basic options appear on a circular rotation, Gallery, Browser, Clock, Calculator, Help, SEViewer, Settings and Music. There are some blank icons in the centre that can be added in.
To the right side are three icons, Internet, Apps and Home. Almost any Android App will run should you so wish.
In theory anyway you should be able to switch between 2D and 3D images. The 3D samples did not match up for me as I saw was two separate images but in fairness my eyes are well worn and 3D on a TV does not do more than give me a headache. I am told this is not unique to me as your eyes are constantly being fooled by the image and – as in my case – refuse to comply.
Viewing in 2D was fine and both the samples as well as the images I uploaded worked fine. I was more impressed with MP3 files as this gave a good sound even with the stock earbuds. This of course could be a commentary to a slide show.
You can view video (MP4) but again I ran into problems. The User Guide (21x.7.5cm) is shaped like a cheque book but hinged along the top edge. All the information (21 pages in English) is printed in Landscape mode across both pages and tightly bound so you need to really pull it to see the information in the centre crease.
While you can insert a micro SD card to increase the memory and it will happily read jpg and mp3 files you need to connect the control box to a PC (by the supplied USB lead) and copy MP4 files to the units main memory for them to play.
Its innovative, some of the things need honing like the entry into the system, some may never work for people like me. The Moverio BT-100 is available from the link below for $699. You can see videos of it on the link.
http://www.epson.com/cgi-bin/Store/jsp/Product.do?sku=V11H423020