Altec Lansing InMotion iM207 Orbit Speaker

Published Nov 8, 2007 Author
petew
Review controls
The iM207 is a small stand-alone speaker for those on the move, intended to be plugged into various sound sources - an MP3 player, iPod, your mobile phone or computer for example.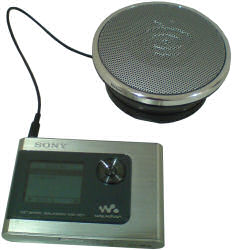 Having recently reviewed the excellent iM600 I was interested to see how Altec Lansing served the lower end of the market. Where the iM600 is a top of the range stereo speaker system specifically aimed at the iPod - this time we're looking at a small circular speaker with built in amplifier.
To look at the 'Orbit' is fairly simple. From above it's circular with the Altec Lansing logo embedded in the silver speaker grill while from the side it's a squat cone. Nothing protrudes from this basic shape to upset the sleek lines. The only control is an on/off switch that is cleverly integrated into the grill - turn the whole grill several degrees to switch on. The movement is quite stiff ensuring that it won't accidentally be activated in your bag.
There is no volume control - instead volume is adjusted from the source device.
The lack of protruding elements adds to a robust compact design that is intended to by carried around with you without the need for you to take too much care of it!
Beneath that grill there is a short connecting cable terminated by a standard jack socket for connection to any suitable sound source : MP3 player, mobile phone, computer for example. This cable wraps around the unit once with the plug slotting into the body - effectively hiding it from view. My one criticism here is that the cable isn't long enough at a mere 20cm. For the most part this is fine - but in some places an extra length would be useful.
The integrated amplifier is powered by three AAA batteries - which slot into the base of the unit. Being intended for mobile use there isn't an option for mains power. With that in mind though each set of three batteries gives a pretty amazing 24 hours use. The only thing to watch out for is to switch it off when you're finished! There's no real visual indication that the Orbit is on - so it would be easy to flatten your batteries without realising - less of an issue if you're using rechargeables, but annoying all the same.
The Orbit can be used in one of two ways. Sitting on it's base it's intended to give excellent all-round sound, ideal in a small group setting. Alternatively - stand the Orbit up on it's edge and you can give the sound more direction. Using it in the kitchen moving around while cooking I found it much better stood upright pointing roughly in my direction. The Altec Lansing people have cleverly added four flat chamfers to the base of the unit that allow it to sit on it's edge without rolling around.
OK - that's a lot of theory - so how does it sound? Well... remarkably good actually. It's not up to the standards of the iM600 of course - it's not meant to be a replacement to your household HiFi. For comparison I connected the Orbit to a number of smaller mono-sound devices around the place, each with roughly similar sized speakers via their headphone sockets. In every case the sound output of the Orbit was superior.
If you're looking for a small speaker to take on your travels that, for the size, gives very good sound quality and performance then the Orbit is a very good product. While it's difficult to test the robustness other than throwing it around - it does appear to be very solidly built, and the design suggests some careful thought into what not to do to a device that's likely to be laying around at the bottom of a bag.
The price is probably a little high so you'd need to take that into account. The robustness though is likely to be a big plus point. Originally priced at around £30 - the Orbit is now available for as little as £17.99, including delivery, from Amazon.
The Altec Lansing 'Orbit' speaker is available for around $30, with Amazon selling it for $28.75 including shipping.
The Altec Lansing 'Orbit' speaker is available for around €35, with Amazon France selling it for €34.99 including shipping.