Acer Small Tower XC600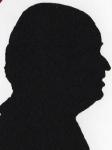 Review controls
A small Tower PC but with everything you need apart from a Panel and speakers and if you connect via HDMI you do not even require speakers. While they are no longer fashionable this is small and has far more connectivity than a notebook.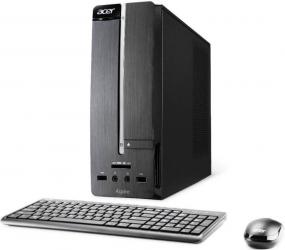 click image to enlarge
The Acer XC600 small tower system measures 37x10x26cm and while it will work horizontally it is designed to work vertically.
The front has two USB2 ports and a multi card slot it also has 3.5mm sockets for microphone and headphones. Behind a flip open door is a DVD multi recorder drive. The right side and top have extensive ventilation slots. The back has the power input PS/2 sockets for keyboard and mouse (both supplied), VGA and HDMI out sockets, Ethernet and no less than six USB2 ports, finally 3.5mm sockets for line in, headphone (or speakers) and microphone. Above these are two aerials as this Desktop also has Wi-Fi.
If you use the HDMI out and the panel you use has speakers then you do not need external speakers so in this way everything you need apart from the panel is supplied.
The one thing lacking is the possibility to add extra external cards as the only expansion is a single half height slot.
The Acer site shows it sitting on a book shelf – possible – but the more likely selling point is 'one third the size all the features'.
Unless the panel you connect to it has touch then I foresee a problem in that although Windows 8 works with non touch units it was designed for touch systems and my own personal preference for this unit would be with Windows 7.
The 1000GB hard disk is more than adequate, the i5 processor is very nippy and 8GB of memory is enough for all applications. Even with its small size there is a DVD writer so for those who are not always connected to the Internet things can still be installed via optical media.
Still if I try to put my unhappiness at 'Tiles' aside and see exactly what this small Tower can do it is a very nice unit. The Plus side of Windows 8 will be faster booting and shutdown and anyone new to computers will find the Interface not difficult to use, however for those used to Windows XP, Vista or Windows 7 will have to train themselves to do things the Windows 8 way which is fine but probably not the way you used to do things. As a dinosaur used more to the 'C Prompt' than even the graphical interface of XP and above it is another thing to master and while you can still do most things you did before you need to work from the Desktop rather than the 'Tiles' on the level above.
Every application I tried worked but I still have reservations not of the Acer unit but of Windows 8 maybe version 8.1 will help but as I have yet to see it I cannot comment.
The Windows Experience is 4.8 made up of Processor 7.5, RAM 7.5, Graphics 4.8, Gaming Graphics 6.1 and Hard Disc 5.9. The 1TB drive is split into two 500GB offerings 'C' and 'D'.
A useful tip for those without touch, move the Desktop tile to the top left and you only need to press the Windows key on your keyboard to take you to the Desktop.
As always with Acer apart from the Windows 64 bit system a number of utilities and trials are installed exactly what depends on the exact version you buy so check in the shop or online to be sure if these extras are important to you.
This nice small Tower would grace any office or home setup, the Wi-Fi works well as indeed does the Ethernet, if I needed another system then this would certainly be on a short list with the two possible stumbling blocks no USB3 and no real expansion.
The Acer XC600 is available from the link below for £293.99 with free delivery. This version has 4GB RAM, a Pentium 3GHz Processor and 500GB Hard Disc .
http://www.amazon.co.uk/gp/product/B00DVK2UWC?ie=UTF8&tag=gadge0a-21&linkCode=as2&camp=1634
The above has 8GB RAM, a core i7 processor a 1TB Hard Disc, neither combination are exactly the same as I was sent as my processor was a core i5. It is £598, so no direct comparison is immediately available.