Higher speed wireless from Trendnet

Fibre to the cabinet (FTTC) and cable now offer faster broadband speeds even though they are still lower than can be achieved over the LAN. Despite this users are demanding higher wired and wireless LAN data rates. TRENDnet's TEW-692GR 802.11n router has Gigabit wired ports as well as 450Mbps concurrent dual band wireless and so is targeted at those who want the highest possible level of performance for gaming and video streaming around the house.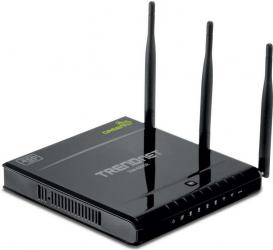 click image to enlarge
TEW-692GR is black in colour, roughly 6 inches square with the three external antennas permanently attached but because they can be swivelled the unit can be used horizontally or, using the provided clip-on stand, mounted vertically. In this case the total height is about 11 inches.
On the rear of the unit there are five Ethernet ports: four Gigabit LAN ports and a separate one, coloured differently. This latter is used to connect to the output from an ADSL modem or other broadband source or other broadband source to provide WAN access. On the front panel are the four LAN and the WAN activity LEDs together with power and the 2.4 & 5GHz wireless LEDs.
The router employs 802.11n Multiple Input/Multiple Output (MIMO) space diversity technology with three antennas for each waveband -- those for 5GHz being external and those for 2.4GHz being internal. One accesses the router's control panel via a Web browser so as to turn wireless On or Off, set up security for each waveband or any of the other features including QoS to prioritise data.
As my own laptop does not support 802.11n I used the Trendnet TEW-684UB 450Mbps Dual Band Wireless N USB Adapter in order to test the router at both 2.4 and 5GHz.
However, although this achieved noticeably higher speeds they did not approach the aggregate of 450Mbps for both 2.4and 5GHz. This is not altogether surprising as information from Trendnet states that "Maximum wireless signal rates are referenced from IEEE 802.11 theoretical specifications. Actual data throughput and coverage will vary depending on interference, network traffic building materials and other conditions."
Nevertheless, in practice, found that on a single band a speed of 216.5Mbps was regularly indicated. This was about 50% up on the native speed of my Win 7 laptop with its internal wireless adapter. However, where there were walls and floors in the way, positioning of the TEW-684UB adapter became critical -- especially when operating at 5GHz.
The TEW-692GR is a suitable router to connect to a cable or FTTC as users migrate to higher speed services. It incorporates all the usual security and other features and is relatively straightforward to install and set up. Being connected by Ethernet to the WAN modem, it doesn't have to be installed adjacent to the point where the broadband entered the house but can be conveniently positioned at the point where it gives the best wireless coverage.
This router will appeal to gamers and those who stream HD movies around the house and who want Gigabit Ethernet and a higher level of wireless performance than is generally available and are prepared to pay the premium.