Netgear's Versatile Rangemax N Router

The Netgear RangeMax Dual Band Wireless-N Modem Router DGND3300 offers both versatility and high performance and, despite lacking Gigabit Ethernet, should meet the needs of the majority of users. In addition to its connectivity, security and other features its USB port allows external storage to be shared by attached PCs.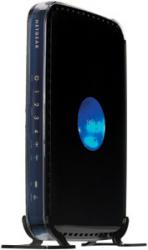 The first thing that one notices is the absence of wireless antennas. In fact, Netgear explains that the unit has eight internal antennas and that, for optimal wireless network performance, the unit should stand vertically using the provided clip-on stand.
The Smart Wizard on the "start here" CD has illustrations which provide guidance and simplify the basic task of connecting the router prior to configuring the internet connection and then configuring the wireless network.
It is a very straightforward task to get it working and access the Internet. One then can use the router manager, via a Web browser, to tweak the settings and gain access to its extensive range of features.
Although key features of the DGND3300 are its wireless dual band with 300 plus 54Mbps data rates, its security features are at least as important. Among them are site blocking, advanced firewall rules as well as the ability to schedule permitted access times. The facility for a trusted PC to visit blocked sites can be very useful in allowing access from the parent's machine to, for the example, the gaming sites that are blocked for the kids. In addition, its ability to set up QoS (quality of service) rules can improve the reliability with voice and video traffic as well as when on-line gaming.
It supports WPS (WiFi Protected Setup). This is an alternative to having to set up the client computer with the same SSID and wireless security setting as on the router. Consequently it is ideal when needing to connect a "guest" either at home or at work. It, however, needs to be used in conjunction with a wireless client, such as Netgear's WNDA3100 RangeMax Dual Band Wireless-N USB adapter, which also support WPS. Here, there is the choice of setup methods: push button or PIN number. With the former, which is simpler, having pressed the WPS button on the router to initiate the process, one just has to press the adapter's WPS button to complete the process.
An external hard disc, connected to the DGND3300's USB port, can be set up to be accessed by local machines as well as being a media server. As one would expect, access methods and network folders that are available can be set up appropriately.
A further useful feature is the Internet traffic meter which can be set to monitor usage and provide a warning prior to one's monthly limit is reached. In reality, how many of us actually have any real idea of our usage? By finding out traffic usage one is better able to decide which is the most suitable tariff to sign up for. After all, if it turns out that one does not download as much material as one expects, why pay extra for an unlimited tariff?
Although there are plenty of cheaper modem routers on the market, the DGND3300 is easy to install and set up and yet, at the same time is very versatile -- especially in combination with the WNDA3100 wireless USB adapter -- and provide a good degree of future proofing. Although their list prices are respectively £105 and £53, they are available on Amazon for £89 and £40.