Acer Aspire One 751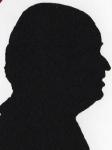 This is a Netbook but not with the normal 1.6GHz Atom processor. This has a 1.33GHz Atom processor meaning it uses less power so you should be able to get eight hours of battery life. The slightly larger screen displays 1366x768.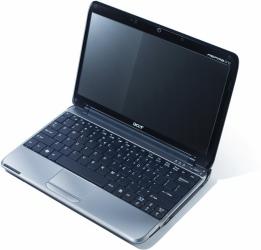 click image to enlarge
This Acer Netbook measures 28x21x3cm and weights 1.35kilos. It has a shiny lid (shows fingermarks) a matt black base and silver grey keyboard surround.
The larger battery (to give the eight hour battery life) sticks out 2cm from the back and the back of the sides are chamfered slightly meaning that the items at the back of each side (Ethernet and VGA) protrude back slightly. The left side has Ethernet, AC input, two USB ports, and microphone and headset sockets. The right side has VGA socket, a USB port and a card reader. Both the front and back have no connections.
Open the lid and the 85key keyboard (alpha and numeric keys are fullsize) appears. There is just one centimetre behind the keyboard and towards the right side of the space are three LED's and the power switch. In front of the keyboard is 5.5cm of space with the 6.5cm wide trackpad 9.5cm from the left and 12cm from the right side. A single rocker button in front of the trackpad is the mouse buttons.
The screen is 25.5x14.5cm giving the notional 11.6inch measurement. At the central top position of the sreen surround is a rather good webcam that works very well in low light conditions and is ideal for video chats over the WWW.
It runs Windows XP Home and boot time is 48seconds while shutdown is 20seconds. These figures are with the supplied trial of McAfee Security installed. The other software supplied is a 60day trial of Microsoft Office as well as Microsoft Works and CyberLink PowerDVD8. Also supplied are a range of Acer applets and finally a whole range of Acer Games most of which work for 60 minutes to see if you like them before you need to purchase.
I did get eight hours of use (or I would if I had ignored the frantic pleas to connect power once it got under 10% of battery) and recharge from this state (unit off) was just over two hours.
For anyone needing a Netbook for a whole day of use without power this works without ruining your eyes to achieve this figure. Did I notice the difference in processor power from the more normal 1.6GHz processor to the 1.33GHz offering here, no. However if you tried to use it for intensive applications I am sure you would.
The extra screen size over a 'standard' Netbook is useful especially for viewing webpages as well as the extra real estate you get for word processing or spreadsheets. The 150GB (141GB actual) hard disc is fine and I am pleased to say it is not divided, while it is good to have a data partition a lot of recent units have a tiny 'C' drive and a huge 'D' drive that is totally unrealistic as a great deal of applications insist on installing on the 'C' drive.
Assuming you have another PC the lack of an optical drive need not be a problem as applications can be transferred from DVD/CD to a memory stick or SD card and then installed from there onto the Netbook. These days a lot of applications are sold as downloads and these can therefore be installed direct from the WWW.
A true eight hours of use from a Netbook and a reasonable weight means this unit could be a useful addition.
Doing my Internet searches found the Acer Aspire One 751 at a best price of £299.99 including free delivery from the first link below.
http://www.amazon.co.uk/gp/product/B00292BG3C?ie=UTF8&tag=gadge0a-21&linkCode=as2&camp=1634
http://www.acer.co.uk/acer/product.do?link=oln85e.redirect&changedAlts=&kcond48e.c2att101=-1&CRC=2759084358#wrAjaxHistory=0