Unpopulated NAS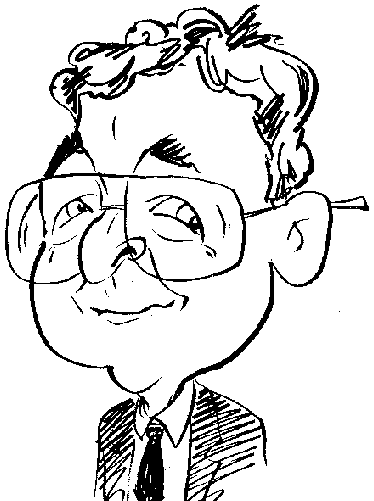 Review controls
NAS (Network Attached Storage) devices come in populated or unpopulated format. In the case of the former, the NAS manufacturer gets to select the make and type of drive to be used by the product. With an unpopulated NAS, the purchaser can use drives which are already in their possession or buy new units from their favourite drive manufacturer. The ZyXEL NAS box, which is the subject of this next review, is a new 4-Bay Personal Cloud Storage product that falls into the unpopulated category.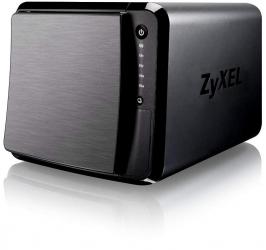 click image to enlarge
Rather undistinguished in appearance, this NAS device is a black box with dimensions of 190 x 225 x 160mm (W x D x H) with a weight of 2000g. This NAS device is powered by FreeScale FS1024 Dual Core 1.2GHz processor with 1GB of DDR2 memory. A removable face plate (it is not hinged so I can hardly call it a door) reveals the four bays which are, not surprisingly, unpopulated at the initial stage. This situation will change as you add drives to the box.
Running down the right side of this face plate is a series of LEDs that relate to system and individual hard drives. Positioned just above these LEDs is the power button while a second button, just below the LEDs, can be used for a one-touch Copy / Sync option. Completing the front of the unit is a second covered compartment. This small compartment contains an SD card slot and a USB 3.0 port. The cover of this compartment is attached to the unit and I found to rather fiddly when attempting to replace it over the compartment.
Taking over most of the box's rear is a grill protecting the 120mm smart fan that helps ensure that the unit's temperature is kept under control. The operating environment for this NAS should be between 0º to 40ºC. Arranged along one side of the grill are connection options for a pair of USB 3.0 ports, two Ethernet ports and the mains power socket. Included with my review sample were adapters for two and three-pin plugs, two Ethernet leads and a spare pair of hard drive runners with screws and a folder sheet of paper that opens out to become an illustrated Start Guide.
Populating this NAS box is a fairly straightforward process. The individual containers slide out easily once the catch has been released. A little trickier was the removal of the orange coloured runners on either side of the container. You do need to apply a certain amount of pressure, either from a thumb nail or appropriate implement, to remove the runners before inserting the chosen drive(s) into the container(s). Depending upon whether you are using 2.5 or 3.5-inch drives, the units can be held in place using the supplied screws or the runners. The Quick Start Guide provides the necessary illustrated instructions.
Once your hard drives are in position, you can add the power lead and link the NAS box to your router. A short wait will be required while the drives are detected with the appropriate LEDs glowing to signify the recognition of the hard drives. You then need to run the management software for this NAS box. However no actual software is provided with this kit. Instead you need to log onto the ZyXEL website, select Support and search for the keyword "NAS540" in order to download the User Guide and Starter Utility.
With the Starter Utility installed you need to run an initialisation wizard to carry out various housekeeping tasks for the detected drives plus add a user-name and password. Finally you can create a volume using the software and select the type of RAID, from a choice of 1, 5, 6 or 10, to suit your needs. This volume will be set up with folders designated as Admin, Video, Music and Photos.
Using the copy and paste method, I populated the Video, Music and Photos folders with appropriate content. Copying 24.2MB of photos took 35 seconds. Consisting of 10,814 items, 31GB of music files required 31 minutes 24 seconds to complete the task. The final transfer of 131 video files, made up of 59.1GB of data, took 34 minutes 48 seconds. These timings were disappointing especially with regards to the music files which doubled that required by a recently reviewed Buffalo NAS product.
The NAS Starter Utility interface provides the user with access to tools that are designated as Desktop, Network Drive, Shared Folder and myZyXELcloud. Some work needs to be carried out on the placement of the icons representing these tools. The icons were placed so close together that their titles almost ran into each other which had an unprofessional look to it.
Selecting the Desktop tool, which does require the entry of a user name and password every time it is access, brings up a screen with icons representing myZyXELcloud, Storage, Administrator, Playzone, Status Centre, External Volume and App Centre. While the functionality of these various options is fairly self-evident, I do need to raise a concern regarding Playzone.
Accessing this feature brings up a carousel type menu that allows you to select from video, music, photos, file browser, applications and settings. As I have already mentioned, I had copied music and video files to the NAS. Attempting to play this content brought up a message that a player was not installed and links were provided to access a Windows Media Player plug-in for Firefox and download the VLC media playing application. As a result I was unable to view video files or listen to music. Installing both of these recommended items initially failed to solve the problem until I linked the files to VLC. Fortunately it was also possible to play both types of content from the NAS using the copies of Windows Media Player and VLC that were present on my local hard disk.
The ZyXEL NAS can provide reasonable storage for local and remote access. It is fairly easy to set up although some of its features are more suited to an experienced user rather than somebody venturing into NAS territory for the first time. Pricing for this unpopulated NAS, as appearing on Amazon.co.uk, is £190.45
http://www.zyxel.com/uk/en/products_services/nas540.shtml?t=p