Just how many cards types are there?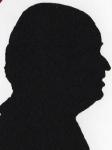 Review controls
Sometime ago I reviewed a card reader that I believe claimed to be 27 types, this to me seemed far more than I knew of. Here I am looking at two devices from Brando and one of these claims 80 while the other has 56 and another plus.
80 in 1 Card Reader and 3 port hub.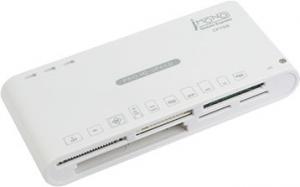 I have long transferred data by a four slot card reader and up till now it has always done what I needed. However when the 'mini' this and the 'micro' that come along they need an adapter so that they adapt to their full size cousins before they can fit in the reader. Here with six slots that is almost solved.
It is 10x4.5x1.5cm and has a short (6cm) USB lead hard wired into the bottom and when not in use it fits neatly into a recess in the unit so no danger of the lead getting parted from the unit.
There are six card slots in two rows of three; the top row has xD, MS Pro Duo, mini SD, SD, SDHC and MMC while the second row has Compact Flash and Micro Drive, MS-M2 and Micro SD. Now I make that ten and you need to consult the back of packaging to find the other 70 types but they are listed.
When you plug the card reader in it gets just a single letter in My Computer and of course unless you want to confuse it and Windows do not place more than one card in at a time. With no cards in a red LED glows, add a card and this turns to orange.
If you then add something into one of the card ports then an additional drive letter is added to My Computer. This is a far better arrangement than with some card readers who assign each port and slot a letter making it a task to find which one is the one you require.
It is stated to work with Windows 98SE or latter, it is of course USB2 but will work more slowly with USB1.1 certainly every PC should have a card reader and this also has a hub saving you diving round the back of the PC when those front ports are occupied. Available from the link below for $19US plus $3US for delivery anywhere in the world.
http://usb.brando.com.hk/prod_detail.php?prod_id=00531&dept_id=015&cat_id=031
USB2 Multislot Card Reader/Writer
This is a rather different device as you can both read and write at the same time. It has two SD size slots so it is possible to read from one card and write to another without having to transfer the files to the PC.
It is 6x8.5x1.8cm mine was a rather garish green colour on top with the rest white. It comes with a removable mini USB to USB lead of 1metre length. The writing on the unit is very small but there is a User Guide that has a diagram showing which cards go in which slots. This one claims 56 card types for its seven slots.
The left side has two slots that take SDHC and SD, RS-MMC and MMC in the top one while the bottom one takes SDHC and SD, RS-MMC, MMC all inserted upside down and Mini SD the right way up. The front three slots support T-Flash, MicroSD, Micro SDHC, xD and M2. While the right sides two slots support Compact Flash and Micro Drive and various shades of Memory Stick. The front has a red LED when there is power and a green when there is activity.
For me the main selling point of this unit is the ability to transfer data directly between two SD cards. Normally if you insert two cards (of any sort) in a card reader it gets confused or even shuts down Windows. Here they are two of the five additional drive letters in My Computer and data is moved very rapidly.
This 56 in 1 card reader is available at $20US plus $3US delivery anywhere in the world from the link below, also available in silver.
http://usb.brando.com.hk/prod_detail.php?prod_id=00555&dept_id=015&cat_id=031
All the card types accepted for both devices are listed on the links given.
Until the end of 2008 all purchases made from Brando are delivered free.