Increased Connectivity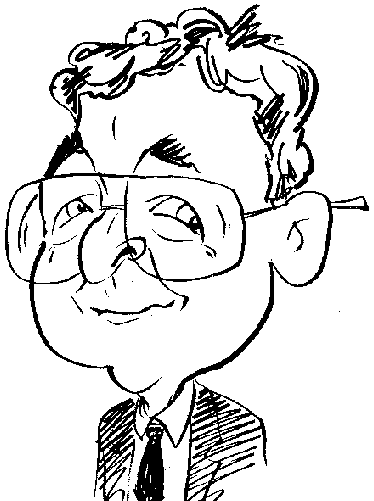 As more and more connectivity options become available, your laptop might struggle to cope.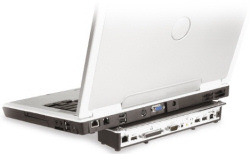 Unlike desktop system boxes, which generally have enough surface area to place numerous connectivity options, a laptop is often not so well equipped. This lack of available sockets is not due to any parsimonious inclinations of the manufacturer but is down to the physical lack of space to place the necessary connections. One method of increasing the connectivity features of a laptop is by using an expansion device such as the Notebook Expansion Dock from Kensington.
The design of this matt silver and black coloured dock is such that it can be used in two different ways. It can be placed in close proximity to the laptop or used as a wedge to raise the portable computer to an angle which many will find more comfortable when typing A rubber pad on top of the dock helps eliminate any problems of the laptop slipping during energetic (game playing) sessions. This latter mode also has the advantage of not blocking access to any of the existing sockets on the laptop.
The dock does require its own power supply. This mains power requirement does make the dock a home base device rather than a travelling companion for your laptop. A mains lead is provided. You also get a USB lead for linking the dock to the laptop and a driver CD. Installing the device is automatic as the standard Windows Wizard copies the necessary drivers for Fast Ethernet Adaptor use; USB-to-Serial; Com Port; and USB audio from the CD to your hard drive.
Running along the back of the dock are various connectivity options along with the power and upstream USB socket. Although you will loose one of your USB sockets on the laptop, the dock does add three extra USB 2.0 ports. You also get parallel and serial ports; 10/100 Ethernet connection; and 5.1 audio sockets for connecting rear, front and centre speakers for a more rounded audio experience.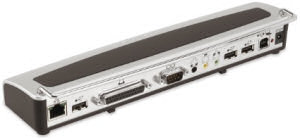 While the parallel port will probably be underused, especially as USB connectivity will provide faster printer data transfer, the other connection options should prove useful. It can be used to connect to a network; for attaching a second monitor with support for 1280 x 1024 resolution; bringing an all round sound experience; and connecting peripherals that could include a mouse, web cam and VoIP phone.
Typically you would use the dock for connecting various devices at your home base. These could be left attached while you simply disconnect the laptop from the dock before taking it on your travels. There is one caveat when using this dock. It does need to be reconnected to the same USB port otherwise it will be seen as a new device when reconnected and the drivers will need to be reloaded and the various ports renumbered by Windows before you can continue.
I was certainly impressed with the additional functionality supplied by this Expansion Dock. I even felt that using it as a wedge help reduced any strain caused by long typing sessions. Even though I was quite prepared to expect some slight time lag with devices attached to the dock, this was not the case. However I do feel that Kensington needs to be a little more aggressive with its pricing as some users could be put off by the price tag of £80. The product comes with a two year warranty.