Bosch GS-50 Power Silence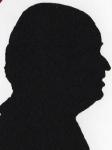 Though it may not be clear from the title this is a vacuum. In fact when I first used it the lack of noise – even on maximum suction – made me think I had not assembled it correctly, so 'Power Silence' does seem to be a good name.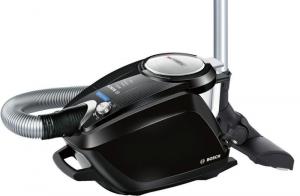 click image to enlarge
The Bosch GS-50 Power Silence vacuum is a pull along unit measuring 43x29x28cm without the hose; it comes with a 7metre flex which means I can just do my whole property from a single centrally located plug when I attach the hose.
The cleaning foot and arm is 75cm long and the tube that fits into the rear of the unit another 2metres so a near 10metre stretch from a power socket.
The foot has a flip switch for solid floors or carpets. There is a rotary control on the vacuum unit that goes from minimum suction to maximum suction in a 180degree turn the on/off control is the centre of this button.
Apart from the main hose there is a selection of other nozzles for all those extra tight places on the ground and in the air. Even then you are not finished as the solid part of the unit expands by over 30cm at the touch of a button ideal to either get just that bit further up a wall or even into that furthest corner.
I still find it hard to explain how quiet this unit was in action compared to almost any other cleaner and this unit powerful.
It is also a very good unit to pick up those bits that normally need two or three going overs to remove, things like a tiny piece of cotton thread that often seem to weave themselves into the carpet. Rugs are of course notorious for storing things and even these tend to give up their bounty for the Bosch.
This is a bagless unit and when you open there is a filter to protect you and the world from the detritus inside the unit.
There is a multi-language Operating Instructions book with five pages in English and these seem to cover everything including what the extra tools should be used for.
This unit is a Hepra model so if you own cats and dogs it will even remove the hairs they tend to leave almost everywhere, not just on the carpets and furniture.
Even on the lowest power setting on the rotary wheel all the everyday bits were removed and best of all not only can you still hear a door bell or phone you should still be able to listen to music without earphones.
Ramp the power up and while it does become slightly more noisy it is still quiet in comparison to most other units.
The Bosch GS-50 Power Silence is well named as it is very powerful and also extremely silent. It is available from the link below for £179.89 with free delivery.
http://www.amazon.co.uk/gp/product/B00D6H8OP2?ie=UTF8&tag=gadge0a-21&linkCode=as2&camp=1634