Roamwild Car Crack Vac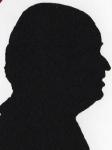 Hard to get places can be accessed with this item, and if something metallic like say a ring has got out of reach then this small unit has a magnetic end to attract and before you capture it you can locate it with its LED light on the end.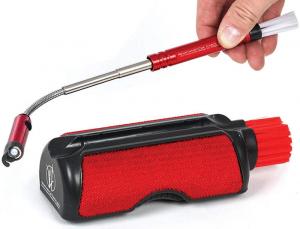 click image to enlarge
One word in the title had me thinking this had a motor that word was 'Vac'. It is actually a brush and the brushes holder is another brush which also has sticky Velcro sides. For good measure the end of the outside container is also a larger version of the small brush, in both cases the bristles are 3cm long meaning they can delve into crevices.
The larger unit is 19cm long 7cm wide and 5cm tall, this has grippy Velcro on either side and a round brush bar on the underside.
The smaller unit fits in the top of the main unit. One end has 3cm long stiff bristles to flick dirt and bits out the other end has an LED light and a hook fitting. From bristles to the hook is a minimum of 17.5cm long but this extends by a further 12cm like the rod aerial of a radio with 4cm of this able to twist 90 degrees or more this end is also magnetic so any small metal object like a ring can be recovered from places where even a child's finger cannot access.
Advertised as a tool for the car it can work in many other places where there are small crevices that would be difficult to access or would require some deconstruction of an item to get to.
The torch part is switched on by a black rubber button 3.5cm back from the torch end, the flat batteries required are supplied.
While it does do what it says I remain somewhat disappointed by the 'vac' part of the name that to me implies it has a motor that would suck crumbs and the like.
The claims made on the box 'Velour Sides' make pet hair removal easy, check. 'Magnetic' crack retrieval tool, check. 'Bright LED' with hook, check. 'Small' debris pick up, check. 'Stiff' debris brush for tight spaces, check and finally soft delicate brush again check.
There is an instruction sheet showing how to extend the rod from inside the torch unit and also how to activate the batteries.
So it does what it says but I still feel unhappy about the 'vac' word.
Further details are available from the Roam Wild website.
At the time of publication the Roamwild Car Crack Vac is available from Amazon for £19.99.