Vacuum Cleaning Robot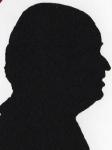 Most would love a robot to do the washing up, ironing and vacuum cleaning. Well here is a circular device that can do the last named, some would class a dishwasher as the first that leaves the ironing yet to be sorted out.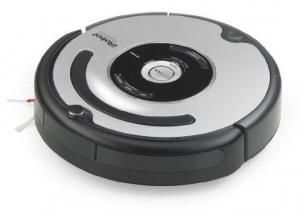 click image to enlarge
This unit is not designed to replace your vacuum cleaner but to work alongside it, lets assume that once a week everything gets a thorough vacuum, this could then be used for the in between time to do the light work.
I have used it like this for the last few weeks and my carpets never now look dirty, the only problem I have found is if you have something that it can just get under it can possibly get stuck. However it goes mats that I would normally take up for my thorough vacuum, it gets into tight corners and then works it way out again, best of all you can press a button on top 'dock' and it works out a way back to where it's dock is using radio signals.
It is near circular at 34cm and just over 7cm tall. The top has a circular button the centre part of it marked 'Clean' with two semi circles around its circumference marked 'Dock' and 'Spot'. They are the controls in use.
You can set it to work unattended by setting the time and then telling it to work at a specific time this could be while you were out.
As a technical exercise I was keen to watch it work simply for the way it thinks its way out of a tight situation. The way it turns a small amount in one direction or a larger amount and then maybe half as much back was interesting.
My unit arrived without a manual only the multi language Getting Started Guide. As it was far from new it might have been lost, I managed to work out how to download a PDF copy but as this is only a computer item through technology it really should come with a manual as there is no need for the owner to have a computer.
If you are going to program it to work at a given time you will need the manual to work out how to program it. Not a difficult task if you are following instructions. Should you wish it to clean only a room at a time it seems there is a way to stop it going onto others by an extra gismo that seems to be an optional extra. For me anyway I find shutting a door works if that was my aim. However I want it to work everywhere so not a problem.
When we work a vacuum we tend to go over the room once if possible in straight lines. The robot works differently and will take longer as it goes over the same part more than once and normally from different angles.
Spot cleaning works in a different way only cleaning within a certain area of where it starts from, ideal for cleaning up something dropped such as crumbs. This is not really designed to clear up liquids just the dry items.
It works out where solids are and will work down a wall or other solid and then fill in the bits in between. Pressing the 'Dock' button will see it work out its way back to the charging dock and then when in the dock will resume charging assuming you have it plugged into the mains. It is possible to charge directly without the dock.
It works best in the minimalist home as it takes time to weave through a room with lots of furniture to traverse.
Doing my Internet searches found the iRobot Roomba 555 at a best price of £312.99 from the link below.
http://www.amazon.co.uk/gp/product/B002P68AE0?ie=UTF8&tag=gadge0a-21&linkCode=as2&camp=1634