Radio! Radio! Radio!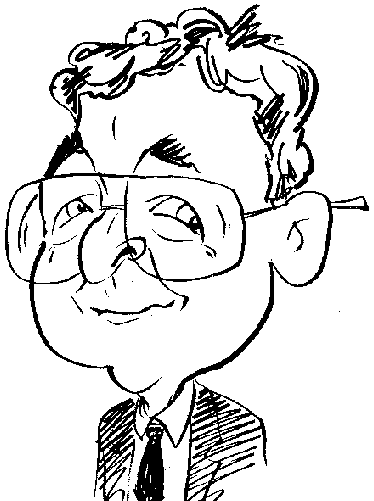 Review controls
We tend to forget that a radio is a wireless device. As such it could access the Internet and your computer's digital content.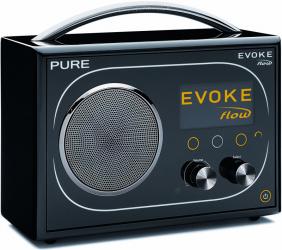 click image to enlarge
Bringing together FM, DAB and Internet radio with the ability to access a cloud-based music service is the EVOKE Flow from PURE. In the past I have looked at a number of FM/DAB radio offerings from various manufacturers (including PURE) but this is the first time that I have come across this particular combination of features and services.
Measuring 175 x 210 x 110mm (H x W x D) and decked out in piano black with silver trimmings, the EVOKE Flow is easy on the eye and would not look out of place within the home or office environment. Along with the circular metal speaker grill, the front of the unit features a high contrast, yellow-on-black, OLED 128 x 64mm display with auto dimming that adjusts to various light conditions. Located just below the display are four responsive touch sensitive buttons with light emitting labels that adjust to the situation. There are also two traditional style dials for volume control and selection plus a further touch sensitive button providing on/off functionality.
Tucked away round the back of the unit are an extendable aerial; enclosed compartment for an optional ChargePAK rechargeable battery; and various connection sockets. There are options to connect a miniUSB , auxiliary speaker, headphones, external amplifier, 3.5mm jack input for an iPod or MP3 player, and mains power.
Initial setting up of the EVOKE Flow is just a matter of connecting the device to the mains and touching the power button. The EVOKE Flow will automatically search for available terrestrial radio channels. You can flick through both FM and DAB radio channels as you create 30 DAB and 10 FM presets for your favourite listening stations.
At this point you will be required to register your radio at The Lounge which is PURE's online portal. This process involves supplying a username and password along with some brief personal details such as an email address. The radio's serial number, located on the base of the unit, will need to be entered and you will be sent a registration code by return. An automatic WiFi search will be carried out and you can then add the EVOKE Flow to your home network. Once you have entered the radio's registration code, you will be able to select from a vast range of Internet radio stations that have been categorised by criteria such as language, genre and quality. You can build up a Favourites listing that can contain an unlimited number of stations.
While listening to tracks on the EVOKE Flow you will undoubtedly come across a number of tracks that are both new and appeal to you. Using the FlowSongs service you can tag tracks by pressing the Flow button and the service will respond by providing artist, album and price details. You can, is you wish, purchase the track through the FlowSongs service. .Prices expecting to range between 79p and £1.29 depending on the publisher.
However, in order to take advantage of this service you will need to have set up an account backed by a VISA/Mastercard credit card. As part of this account you will be given an initial 90-day free trial during which you can tag tracks. At the end of the period, a payment of £2.99 will guarantee you a 12-month subscription. Your account must be in credit before you can purchase tracks. These tracks will be DRM-free which should mean you can play them on various devices The Lounge homepage will keep you informed as to your account balance.
Of course as well as listening to music on the radio and purchasing new tracks, the EVOKE Flow has yet another string to its bow. You probably already have an extensive collection of your favourite tracks in digital format on your computer. This source of material has not been forgotten by PURE. The EVOKE Flow has a Media Player facility. The feature does require that you have an UPnP media server, such as FLOWserver which you can download free-of-charge from The Lounge website, installed on your system. With this software installed you can stream music direct from your computer to the EVOKE Flow.
PURE has come up with a combination of stylish appearance and wide ranging features. As the product's packaging states this "much more than a radio". It can be your delivery system for your music listening pleasure with an option to purchase additional tracks. My only real criticism of this product concerns its control system which will not be to everybody's taste. At times selecting items can be over-complicated such as needing to confirm actions including turning the device on and off.
The minimum system specifications for this product call for 0.5MB Broadband Internet access, 802.11 b/g wireless network running on a Mac, PC or NAS box with UPnP support. Browser support covers Internet Explorer 6, Firefox 3.0, Opera 9.5 and Safari 3.1 and later. Pricing should be in the region of £107.
http://www.pure.com/products/product.asp?Product=VL-60896&Category=Lounge