Two items to save power?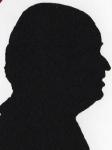 Review controls
First an Energy Reducing Kettle and then a power saver device Audio Visual Standby. This is the third of my reviews from the Marks & Spencer Christmas In July event. The first two were of reasonably priced useful items, here I am less sure.
Buy Now!
TV Standby Monitor
£19.50 from
Marks and Spencer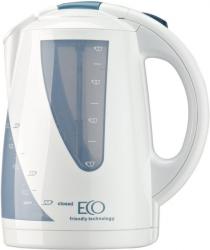 Energy Reducing Kettle
Is it just me but for many years I have added just the amount of water I want to the kettle not just for the point of view of saving the cost of electricity (a great deal more now than previously) but also for the fact it takes far less time to boil.
The Marks & Spencer energy reducing kettle claims that it increases the efficiency of your kettle by up to 31%. As with a number of items I have received to review no instructions were supplied so the box and common sense were the only indicators.
It is described as cordless as the kettle sits on a 19cm round base that is only 2cm thick this has a 35cm lead to a fitted 13amp plug. In my opinion this is too short but no doubt experts say differently.
The kettle is 27cm tall and 16cm round. No doubt the instructions would tell you how to use it but it is not that straightforward. The hinged top needs to be lifted to insert water. It takes a maximum of 1400ml (stated to be 7 200ml cups) but you can boil as little as 200ml. once water is in the kettle it stays there once the lid is shut as the spout is sealed off and you need to press the grey insert in the lid to transfer water from the holding area by vacuum.
The clear outside is marked in cups five being the maximum it can boil you transfer just what you require. At the base of the handle is a simple flip down latch to start the process.
The stated price is £29.50 and while the idea of boiling just the amount required and the markings in cup sizes are good I think this is overpriced for what it appears to do. Of course if the instructions had been supplied I would know for certain if there were other features I have not discovered. Me? I will continue to take my cup/mug to the tap and then pour just that amount into my kettle.
Audio Visual Standby Power Saver
This device did arrive with instructions and as the device looks the same I assume they are for this unit although they are called TV Standby Monitor Instructions.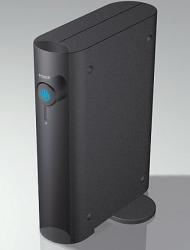 First the claims in the box will reduce your electricity bills at an estimated £40 annually. Will extend the life of your valuable equipment by turning units off. Extends life of products by around 15%. Protects your products from power surges. There are other even more vague and unexplained statements.
The box is 15x12x4cm and has four rubber feet to allow it to be used horizontal however part of one end rotates to allow it to be used vertically.
Towards the base of the unit two leads emerge the first a 25cm lead ending in a 13amp socket. The second a 1.2metre lead ending with a 13amp plug. The front page shows a diagram where a five way extension lead is attached to the socket and then it shows TV, DVD, Hi-Fi, Games Console and Amplifier plugs going into it so I assume this means all these items could be controlled from the one unit.
On the back page under warnings it says not suitable for devices that use clocks and Electronic Program Guides (EPG). Video recorders should not be connected as the clock will be turned off. Also please be aware that Satellite and Free to Air boxes require EPG updates.
The object is that this device detects the standby current required of the device and provided this is between 40mA and 380mA then the device will function. The stated price is £19.50
Again most devices it mentions will have clocks and are therefore unsuitable. I just get up and turn my TV off not to standby but off if a TV does not have an off then switch it off at the socket.
The TV Standby Monitor is available from Marks and Spencers web-site for £19.50 on the following link :