Children Just Love the Cardboard Boxes - Toys from ECOutlet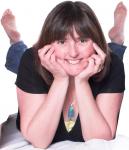 Some great toys from ECOutlet the online store for eco-friendly items. We checked out some fab environmentally friendly toys.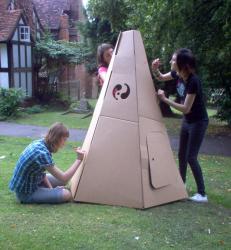 click image to enlarge
You know the old one - when you buy a kid a present, they invariably play more with the cardboard box. Here's a company that's making the most out of that maxim - ECOutlet. ECOutlet help us to feel a bit better about our purchases by giving us environmental choices, with everything from books to toys and cycling to garden accessories as well as laundry and cleaning products. This is a great place to look for presents with that Eco-touch.
Now imagine the scene - five teenage kids - one sunny afternoon - nothing to do! That's the time we opened the Cardboard Teepee available from ECOutlet. Several hours later, kids still decorating the teepee, we were dragging the kids away because their friends needed to go home. I've not seen a group of kids have so much fun with a few pieces of cardboard in my life - including the Christmas boxes! Admittedly it's really intended for slightly smaller kids, but we could fit two twelve year old kids in the fully constructed teepee.
The teepee comes in 6 equal sized pieces of cardboard which are laid on the floor and then slotted together. It took two adults a bit of man-handling - and we could have done it quicker if the kids weren't joining in - but a short while later we had the teepee erected. Then the fun starts. Because it's just plain cardboard, the kids took out their felt tips and had a whale of a time getting up to their arms in graffiti. At £27.95 I call this a winner. It's just as easy to use inside and out, it gives hours of fun. The teepee is made from recycled material and is in turn recyclable. There is however an understandable £7.50 delivery charge.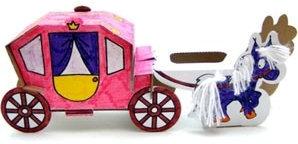 For tabletop rainy day play we tried out a couple of ECOutlet's smaller Horse and Carriage and Racecar cardboard toys. These are made of white cardboard and come complete with a colouring set. It takes roughly 30 seconds to 2 minutes to put these together and is an excellent way of introducing small children in the 3-7 range to the idea of construction and then let them rip with the pens. So it's a 3 in 1 treat, construction, decoration and playing with the toys afterwards. At £2.99 each these are staggering good value.
I can honestly say that I wish ECOutlet had been around when my kids were just that wee bit younger. Now the artistic side of me is just champing at the bit to collage my own Teepee, then sit inside and meditate!!
You can find out a lot more about all ECoutlet's products on their web-site: http://www.ecoutlet.co.uk