Universal Remote Control URC-8350

Published Dec 8, 2008 Author
petew
Review controls
If like our house you have remote controls coming out of your ears, but never the right one then this little box could be just the thing for you. As well as controlling up to four separate devices it will also completely power them down - saving you money, batteries and the world resources.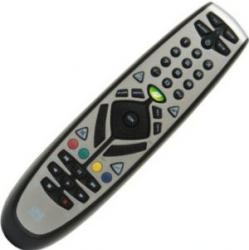 The URC-8350 is a fairly standard sized 'traditional' remote control unit measuring 210 x 55 x 30mm (HxWxD). Power is provided by two AAA batteries.
As well as the remote the product is provided with an on/off power plug (HC-8000). Simply insert this into a wall socket, and the connect all your A/V equipment through that plug via a power strip. The remote then allows you to completely remove power from all those devices - reducing the standby requirement to zero. The manufacturer suggests that this can save as much as £37 per year, although that will depend on your own equipment and how religiously you remember to switch them off!
Although only one power plug is bundled with the remote you can buy additional plugs, and the remote can individually switch each. So you could have one for you living room and one for your kitchen.
As well as saving power by switching off standby, aggregating all your many remote controls into a single device should also reduce the number of batteries you get through - again reducing you environmental footprint.
In order to control your various devices you have to first programme the remote to know which devices you have. Technically this is quite a straightforward process - all you have to do is locate a five-digit identifying code for your product from an available list, sorted by manufacturer. In practice if you have a popular brand then it can take a while to find the right code, although they are apparently sorted in order of popularity.
The only problem I had was with my FreeView receiver. The manual contains separate sections for TV, VCR, Satelite, Cable and a few others, but not for Freeview that doesn't fit in any particular category. I did find it eventually listed as a satellite box.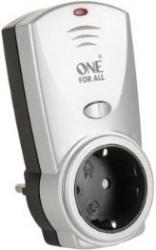 If you're stuck then finding the appropriate code then the support section of the One-For-All web site may provide some assistance. Under 'download' there is a tool that is intended to allow you to upgrade your remote control. It also allows you to search for code by product. The search isn't always accurate - the number provided for one of my devices was wrong, and also the suggested upgrade was also wrong. I eventually realised the code I needed was in the book.
I mentioned above that this remote can be upgraded as new products become available. This is an interesting feature. The upgrade seems to be possible over the phone or via a computer. The process is somewhat convoluted (unnecessarily so I believe, but you shouldn't have to do it very often).
Getting an upgrade will require you to register with the site, which isn't unreasonable. However for some reason you are then limited to 20 upgrade codes. Not particularly a problem as long as you don't have problems locating the correct code, but I can't actually see any reason why there should be a limit. If you do run out then it seems that you could register with a different email address.
The upgrade is achieve via 'magnetic coupling'. You hold the remote close to a speaker and play a sound very reminescent of the days of dial-up Internet. The remote interprets the data and stores the code. I had to play around a bit to get the correct volume - after around six attempts the remote told me it had successfully upgraded.
There are a number of other features such as the ability to 'learn' specific button from an existing remove or to create macros - allowing one button to trigger a sequence of commands. These for the most part are going to be niche features but will undoubtedly have appeal to some users.
The URC-8350 Universal Remote Control is available from Amazon at £34.48 including shipping on the following link:
http://www.amazon.co.uk/gp/product/B00197XM30?ie=UTF8&tag=gadge0a-21&linkCode=as2&camp=1634