Humax LGB-19DZT - 19 inch Digital LCD TV

Published Feb 28, 2008 Author
petew
Review controls
Over the last few years the trend in television has been for ever bigger screens - whether LCD or Plasma. There is however still a market for the smaller set - either for bedroom, kitchen or den. Humax have addressed this somewhat neglected market with a range of 19 and 22" highly functional sets.
Buy Now
Humax LGB-19DZT
19" digital LCD TV
£204.55

direct from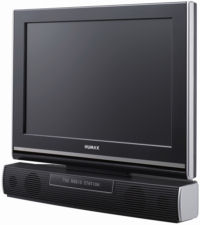 click to enlarge
I'm reviewing the 19" version here. Like it's slightly larger 22" sibling this set is available in either black or white. The display is a 1440x900 wide-screen panel with a wide 160° viewing angle. This sits on an integrated stand that contains the stereo speakers. Dimensions for the whole unit are approximately 500x439x170mm (Width x Height x Depth). The depth is due to the base of the unit that houses the stereo speakers. Weight is a fairly modest 8.2Kg.
Shipped with the television set itself is a remote control and manual. The manual is worth mention - unlike some that we've seen this is clear, well written, comprehensive and printed in a font that doesn't need a magnifying glass. Almost all features of the set are covered in 62 pages.
It's quite interesting how we've become accustomed to ever larger screens. To review this product I replaced our existing 32" LCD set while the kids were out. When they returned I had complaints along the lines of "have we got to watch Skating on Ice on that? It's so small". Two days later though they had adjusted to the smaller display and were quite happy.
Provision has been made to allow the product to be wall mounted and the designers have taken care to ensure that none of the rear connectors obstruct or prevent such use.
Both analogue and digital tuners are integrated into the product. With my rather ancient external TV aerial the digital tuner managed to find 44 television channels and a host of digital radio stations. With digital television you get all the usual benefits of electronic programme guide (EPG) and programme information. You can also search the guide for a particular programme.
In answer to the traditionally tinny sound most 'second TVs' provide, Humax have gone to great lengths to provide good quality audio. The stand includes twin 8W speakers providing stereo output and they have licensed SRS TruSurroundXT - a surround-sound technology that actually works remarkably well. The quality of the sound is exceptional given the size of the unit - bass reproduction is very good and volume more than adequate with no real distortion at higher settings. The price you pay for this quality of sound is the depth of the stand that could be an issue for those wanting to wall mount - this isn't going to be as flush with the wall as others. For those wishing not to disturb others a 3.5mm headphone socket is provided.
Humax have catered for a variety of external connections to facilitate most peoples requirements. Apart from obviously operating as a standalone digital TV, there are also SCART, HDMI, S-Video, Component and Composite inputs. Finally there is are standard VGA and audio-in for operation with a computer. The manual includes very clear instructions on how to connect to a variety of external devices.
For the second part of this review the Humax was removed from the living room to the study and in this case connected to my computers second video output. The computer had no problems automatically identifying the new screen and correctly selecting the appropriate resolution (1360x768 at 60Hz). I'm unclear however why the computer resolution is less than the 1440x900 native screen resolution.
A separate 3.5mm input jack allows you to feed computer sound through to the internal speakers.
Playback of computer video was very good - both playing a traditional DVD but also more interestingly playback using the BBC iPlayer and channel 4 'on demand'. Pairing a product like this with a media capable PC makes an ideal entertainment solution. The unit is however primarily a TV - not a monitor and is optimised as such. Text is not as sharp as a dedicated monitor and the lack of ability to tilt the screen means most people are not going to be comfortable working in front of it for a long time. The resolution is also somewhat lower than I'd preferably like for a full time monitor. For the occasional computer user or for browsing the web it is more than adequate.
In digital radio mode the LCD panel is switched off after a short delay reducing power consumption. In this mode a separate dot-matrix 'Vacuum Fluorescent Display' in the stand shows the current station.
If you have a digital signal then you can use an alarm feature - allowing you to wake to either your choice of TV or radio station. Unfortunately the alarm function is only available if you have digital TV - there's no option to manually set the clock. For most people this shouldn't be much of a limitation.
For those that want a smaller screen TV without sacrificing features, functionality or quality this Humax is ideal, either as a smaller screen primary set or as secondary set.
The LGB-19DZT is available directly from Humax for £204.55 on the following link, which is toward the top of the price range for this size TV :
http://www.humaxdirect.co.uk/Product.asp?ProdRef=10060&cat=lcd
If you prefer a larger screen then the same functionality is available with 22" panel as the LGB-22DYT for £292.64 :
http://www.humaxdirect.co.uk/product.asp?ProdRef=10062&cat=lcd