FreeLoader - Helping the environment?

Published Jan 7, 2008 Author
petew
Review controls
We all want to do our bit for the environment - but it pays to ask questions and not accept manufacturers claims at face value. Here we look at the FreeLoader that offers to power your gadgets for free using the power of the sun. How does it measure up? You may be surprised!

Information on the FreeLoader arrived through the GadgetSpeak letter box a while before Christmas and was followed up by a phone call - and then a duly delivered sample for review.
What is the FreeLoader?
The marketing is clearly targeting the environmental pang of guilt we now all have by giving you a shiny new gadget that also helps to reduce the environmental impact of all your other shiny gadgets. A win-win situation! As the name implies, FreeLoader suggests something for nothing - in this case endless clean electrical energy to drive your favourite gadgets from iPods to cameras to sat-navs. Anything in fact that accepts a DC power source of around 5V.
Brilliant idea. First of the all the product itself. The package contains the Freeloader itself, a set of adaptors for a wide range of products, a short manual and a USB charging cable. The looks are good and this product is obviously sees itself as a fashion statement as much as anything else.
The FreeLoader comes as a rectangular unit 6x12.5x1.7cm (WxHxD). Pull the top from the bottom and half the case splits into two small solar panels. The remaining part contains the electronics and a battery. The solar panels clip into the left and right of the battery unit - at which point you place the unit into sunlight to charge.
...or at least that's the idea. My initial thought was to attempt to use just solar energy to power my phone for a month. Not difficult I thought given the phone battery holds 14 days charge and I make very few calls.
Initial results
Although the battery can be charged by solar energy, and that is the obvious message from the product, you can charge from any USB power source - and you are told that you should first give the battery a full charge from USB for conditioning purposes. This I duly did.
On to solar energy. With a lucky bright, dry sunny spell in our usually dreary weather I was optimistic. I propped the FreeLoader up outside and periodically moved it round to make sure it was continuously in direct sunlight. It was in the sun for around six hours.
At the end of that time - I plugged it into my Sony Ericsson phone using the adaptor provided, having let the phone battery drain to less than 50% by playing a video.
I was somewhat surprised when I found that the total charge time from the unit was 2 minutes. After a whole day in the sun. I repeated this experiment again, but after two days in the sun. Just about the same result.
I was a little surprised given the wording of the press release "There's no need to live in LA to enjoy the benefits of free solar technology as FreeLoader even works in the cloudy and dreary UK or indoors. It doesn't!
I contacted the manufacturers, Solar Technology, to find out whether this was to be expected. And - well - yes, actually. Despite the claim on the firms website that they "use crystalline silicon technology which is more efficient than amorphous or thin film solutions, particularly in lower light conditions found in the UK", they don't expect you to be able to get any charge at all in the UK during winter time and that I should try again in Spring!
Given I'd been provided with the product to test in December this does show a certain lack of planning!

Looking a little closer
Removing the solar panels from the battery unit I tested the current and voltage output from each panel. In direct sunlight I measured around 17mA and a no-load voltage of 6V. Not a huge amount, falling far short of the claimed 120mA, but neither is it insignificant. This is going somewhere - and it's not charging the battery. I have a pretty good idea where. Each solar panel has an LED indicator in the battery unit that lights up to reflect the amount energy from each panel. Now an LED can take 20mA, forgetting about loss in the charging circuits.
This is clearly a design mistake - and driven I assume by wanting to 'show' all that free energy! If you're trying to collect solar energy from very small panels and you're aiming for the UK market you do not waste that energy making LEDs glow!
The battery
Discussing this with the company further their suggestion was that although you'll not get any solar power in winter (but wait for spring!) the FreeLoader is also a very convenient way of carrying some extra power with you by charging the battery from the USB port on your computer. It was suggested that because it was USB it didn't consume any power - obviously not the case!
Charge time from USB is stated to be around 3 hours. What this is likely to mean is people leaving their computer on over night using hugely more energy than they would charging a couple of AA batteries from the mains. In fact having a mains adaptor for FreeLoader would probably be more efficient overall than using USB (there is actually an option to buy such a product!)
So moving on from the solar aspects of this product to the convenient spare power for your mobile or iPod when you're out and about. This is a possibility, although the spec for the battery isn't particularly stunning capable of 1000mAh at 3.7V, or 3.7W. In terms of stored power that's slightly more than a single 2700mAh, NiMH AA rechargable batteries (3.24W). Further, because the battery is an integral part of the central unit when it's two year lifetime expires you'll be throwing away (hmmm - recycling) not only the battery but also the circuitry, LEDs and other components. Finally the output of the battery also has to drive voltage converters to get to the output voltage of 5.5V - which will not be a loss-less conversion.
New batteries are available for £12.99. Remember each battery stores a charge slightly higher than a single high-capacity AA cell, of which you can buy 4 for close to £12.99.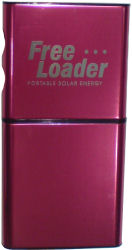 The environmental impact
I'm not sure where to start on this. The environment is a key issue right now, in the news almost daily. This unfortunately creates a bandwagon (opportunity) onto which many companies may wish to jump. The FreeLoader seems to be a case in point. While many of Solar Technologies other products look sound, this seems to be aimed squarely at cashing in on consumers fear and guilt. Our particular concerns are summarised as follows :
Aimed at the UK 'green' market, but unable to use solar energy for a considerable part of the year
Even assuming it works in summer - there is the environmental impact of manufacture, shipping and eventual recycling of batteries and panels
Poor energy usage design with LEDs frittering away what energy is available
Non-replacable low capacity battery with 2 year life-time (to replace, throw away all the electronics as well)
Encourages wasteful use of energy by suggesting USB as a suitable non-solar charging mechanism
Energy Awards
Given my findings on this product I was very surprised to find it being awarded "Highly Commended" status by the Energy Efficiency Awards. Something that I find interesting!
Accessories
Apart from a wide range of adaptors for the FreeLoader you can also extend the usefulness of your FreeLoader by buying an AA battery charger - this is priced at £12.99 and can charge two AA batteries. That may sound useful, however bear in mind that the FreeLoader can only charge external devices via it's internal battery - which when fully charged is only sufficient for one high-capacity AA battery. There is loss in the transfer so in practice it won't be sufficient to fully charge a single battery.
Solar Technology sidestep this issue somewhat by only supplying 1300mAh batteries - about half the capacity of those generally available for the same price elsewhere.
Summary
I'm sorry - I can't recommend this product to anyone. It's not particularly expensive at £29.99, but it doesn't do what it suggests on the tin while encouraging environmentally unsustainable practices.
What next?

None yet. The FreeLoader is now in the draw awaiting spring. When spring finally arrives I'll drag it out and update this review with how it fares charging at that time of year and may do the same for summer. Maybe it can redeem itself a little if it can produce a good stream of energy on both sunny and somewhat overcast days. Stay tuned!