Jamie Oliver Survival Kit - Space Saving Kitchenware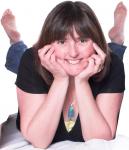 We've had a big focus on kitchen gadgets in the last month, and here's a neat little idea from Tefal and Jamie Oliver. In such a very small box, roughly the size of just one medium casserole dish, we received a 6 piece set of aluminium non-stick pans. This is the Jamie Oliver Survival Kit, and it's a fabulous range of cookware for anyone with limited space – perhaps those in their first studio flat, or students at uni.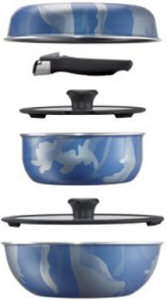 Six pieces actually means 3 pans (wok, saucepan and frying pan), two lids and a handle which interchanges between the three pans. All the pieces slot nicely into like Russian dolls. Made by Tefal, they have a lovely non-stick surface and are very easy to use. Each pan has the Tefal thermostat red dot in the middle to tell you when they are hot enough to fry in. One of the pans has ridges which means you can pan-fry and get the benefits of grilling as the fat moves in between the ridges.
To add to their versatility, you can also use the saucepan as a non-stick baking tin in the oven for cakes, and puddings. The pans are oven safe up to 230 degrees.
The glass lids are a nice touch for being able to see your food cook, and they have silicone knobs which should stay cool - although I still found them a bit warm to lift off with my bare fingers.
The removable handle gives the Survival Kit some gadgetry benefits. Because the handle comes off, you can transfer from hob to oven - that saves washing one dish up, and leftovers are easily stored in the fridge. And they are a rather cute camouflage blue so look cool as serving dishes. Also easier for fitting into the dishwasher, and for stacking in the cupboard afterwards. The disadvantage if you are using all 3 pans at the same time on the hob is you've got to keep changing the handle over. But I think this kit is aimed at the 'one pot' cook!
To give you an idea of the many ways to use Jamie's Survival Kit, there is a website with recipe suggestions http://www.hackthekit.co.uk/
Of course I can't end this review without mentioning my favourite Jamie Oliver recipe books - so here goes:
Jamie's Dinners
- try out the wonderful sea bass with crispy roasted asparagus bundles wrapped in bacon and the scrumptious Toffee Apple Tart
and Jamie's Italy
- I never knew Tiramisu could be so easy (and delicious), though never again will I prepare my own fresh tomato pasta sauce - fantastic as it tasted it took hours!
The Jamie Oliver Survival Kit is currently available from Amazon at £49.97 - more than £20 off the RRP - can't be bad :
http://www.amazon.co.uk/Tefal-Jamie-Oliver-Survival-kit/dp/B000TXV61K