Salter ECO Electronic Scale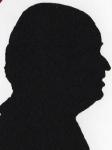 It seems strange to talk about scales that use batteries but of course unless they are the old type that use weights all modern scales need a display and that normally needs at least a small battery. This is the exception it uses no battery.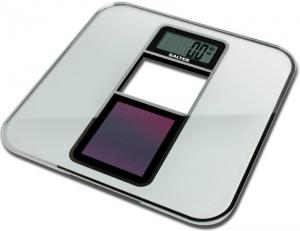 click image to enlarge
The overall size is 30x30x1.5cm and they weigh 1845grams.
The plate you stand on is glass and it is split into three vertical areas. Either side is a white smoked glass for your feet and the central strip is divided into three an 8x3.5cm display area to show the weight, the central part is clear glass and the lower largest part is made up of light receptors to such in the light to keep the unit charged.
The A5 instruction manual covers sixteen languages. English is covered easily on one side under ten headings.
First and perhaps most important the power source is light, not only natural light like the sun but also it works perfectly well from dull overcast light and if both are unavailable even electric light can power it.
At the top right of the display is a tiny flashing icon if this is flashing you just need to step on the scale to weigh yourself.
Providing the scale stays in the same place it should always be immediately ready to weigh. Should you move it then it will take a few seconds to reset itself to zero before being ready to weigh.
There is only one control for the unit on its back a push button to sequentially move through the three weight types, kilos, stones or pounds.
If you intend to use on a soft floor such as a carpet remove the four feet supplied – non slip – and replace them with the slightly larger ones provided for use on carpets.
When you first step on the scale it will fluctuate for a short time before stabilizing and then the figure shown flashes you can then step off the scale and if your sight is less than perfect bend down to read the figure that stays on display for a few seconds before blanking the display.
The maximum it can display is 180kg, 28stone 8lb or 400lb. The display shows in .1kilo or .2lb increments.
There are just two error messages 0-Ld the weight limit is exceeded or Err Unstable weight, Stand Still.
My one worry is how this would cope when stored away for any period and this was answered by me replacing it in the box for a week and denying it any light, I then removed it at dusk and placed it on the floor and I immediately got a reading, the display is black on grey so you do need a light source to read the display in a darkened room.
I have no idea what the clear glass area in the centre of the central area is for and can find to mention of it having a purpose, so I assume it's just a design feature or talking point.
The Salter ECO Electronic Scale is available from the link below for £29.99 with free delivery.
http://www.amazon.co.uk/gp/product/B0051YSC6O?ie=UTF8&tag=gadge0a-21&linkCode=as2&camp=1634